Primo Desiderio Pro Freestyle Model - Collector Edition
The Primo Pro Model Deck is pressed from our custom SK8KINGS molds -- featuring a mellow freestyle-specific concave and kicks for excellent performance across the board. The shape has been dialed to Primo-approved perfection with blunt kick tail and rounded nose, mellow concave and nice flat rails -- excellent for rail tricks like the Primo Slide. This Collector Edition features an 80's retro theme photo collage graphic with classic pics from the legendary days of Primo and Diane -- the unstoppable husband and wife freestyle duo. Primo's deck is a great choice alone and even better when paired with Diane's model -- for the complete experience - just like the original power couple of freestyle.
Deck Specs:
Overall dimensions: 28 3/4" x 7 1/4" Wheelbase 11.75"
Double kick concave design - perfect for freestyle
7-ply hard rock maple construction
Finished with collector edition colorful photo collage graphic
Manufactured in small batches in So Cal USA
Optional Upgrades:

Skid Plates: Add a set of our King Plates - skid plates to protect the nose & tail and add longevity to the deck (comes unapplied unless "apply" option is selected)
Grip Tape: Add a sheet of black grip tape for your deck. Choose upgrades when ordering (comes unapplied unless "apply" option is selected)
Logo Tee/Hoodie/Hat: Save $5 on a logo T-shirt, Hoodie or Hat when ordered with a deck or complete. Choose the item to add and indicate logo choice and size in the notes section when ordering

Complete Build: Also available as a complete skateboard - see related items to order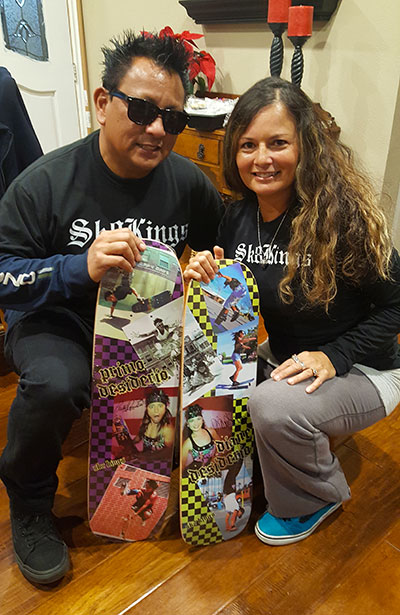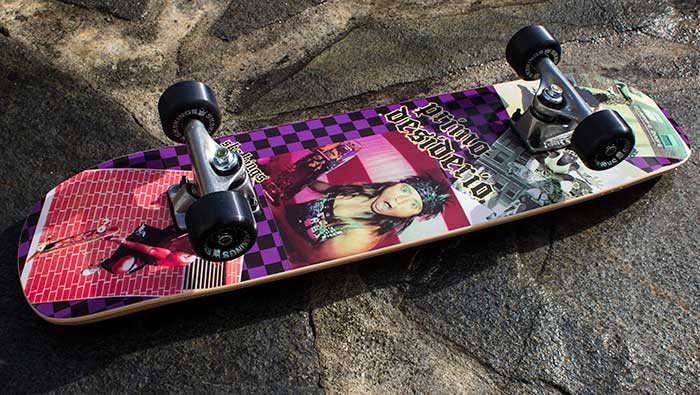 Customer Reviews
No Reviews Yet!