Bennett Complete - Locker Rocker 25" - Mini Cruiser
These small size cruisers are the perfect pack and go setup. Great gift idea for students to cruise around campus - and just right size to pop in the locker when not in use. The deck itself is small, has a slight rocker and no kicktail. Assembled with ultra turning Bennett Vector model truks and Alligator wheels -- for fun & stylish ride. This classic set up is topped off with custom laser cut grip and hand screened on both sides. For summertime at the beach or for cruising the campus, these are small, well built, light weight, good time boards.
SPECS AND UPGRADE OPTIONS: Complete build features Bennett 4.3 Trucks, Alligator 62mm Wheels, Nitro Bearings with steel spacers, Khiro risers/hardware and die cut grip tape with Bennett logo topside. Please select wheel durometer of your choice. Upgrade to black finish trucks or 71mm wheels.
DECK DIMENSIONS: 25" long, 7.5" wide, 14.25" wheelbase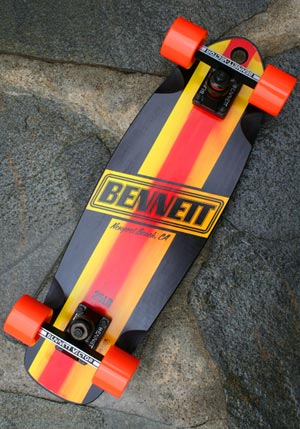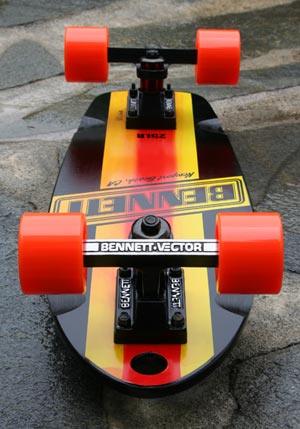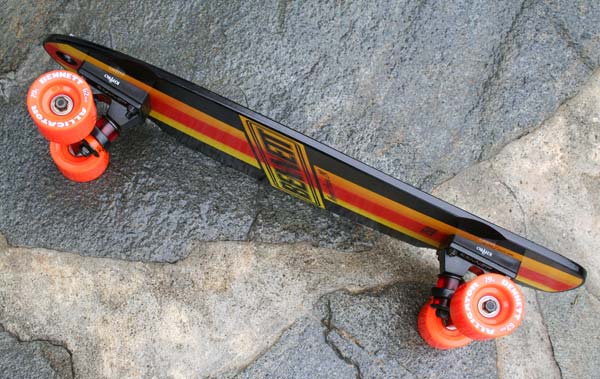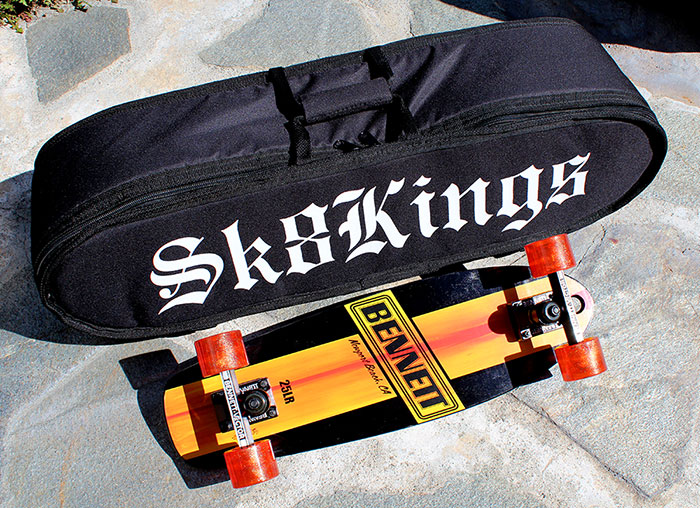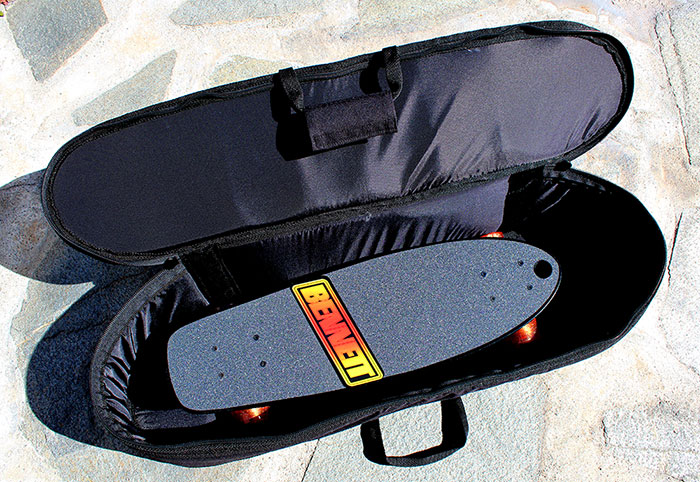 ABOUT BENNETT TRUKS: In 1975 Mr. Bennett made skateboard history with the introduction of the very first trucks made specifically for a skateboard. Known for their Big Red Rubbers ™, precision components and amazing turning ability, Bennett Truks ™ quickly became the choice of most professional and amateur skateboarders. With superior geometry enabling hard carving and tight snappy turns, Bennett's 70s issues are still on the cutting edge of performance. Over the years many have copied Bennett's legendary designs and features, but none have ever been able to duplicate the feel or performance. Bennett has reintroduced their iconic Vector ™ truks, while finalizing the development of the next generation of precision Bennett truks and wheels. (Courtesy Bennett Truks web site). Bennett headquarters located in Southern California.
For International Shipping Rates inquire by e-mail: info@sk8kings.com Rates vary by country so please include your shipping address in e-mail.