Sk8Kings Freestyle Deck - Primo Desiderio Pro Model - Collector Edition
Concave, double kick design Dim: 28.75" x 7.25" Wheelbase 11.75"
The Primo Pro Model Deck is pressed from our custom SK8KINGS molds -- featuring a mellow freestyle-specific concave and kicks for excellent performance across the board. The shape has been dialed to Primo-approved perfection with blunt kick tail and rounded nose, mellow concave and nice flat rails -- excellent for rail tricks like the Primo Slide. This new Collector Edition features an 80's retro theme photo collage graphic with classic pics from the legendary days of Primo and Diane -- the unstoppable husband and wife freestyle duo. Primo's deck is a great choice alone and even better when paired with Diane's model -- for the complete experience - just like the original power couple of freestyle.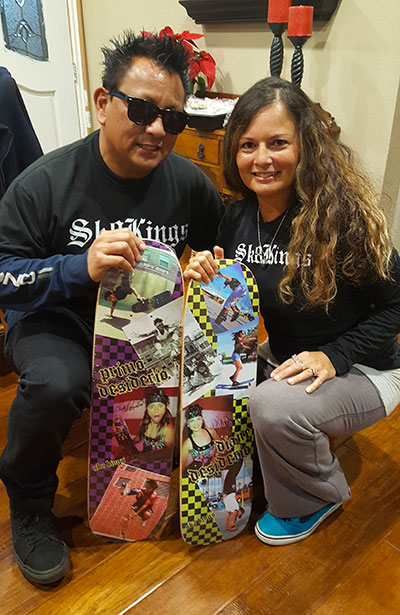 Deck sold alone or with optional grip tape and/or skid plates.
Deck Specs: Overall dimensions: 28 3/4" x 7 1/4" Wheelbase: 11 3/4" Crafted from 7-ply hard rock maple in So Cal USA and finished with this all new collector edition graphic.
Complete: Also available as a complete build.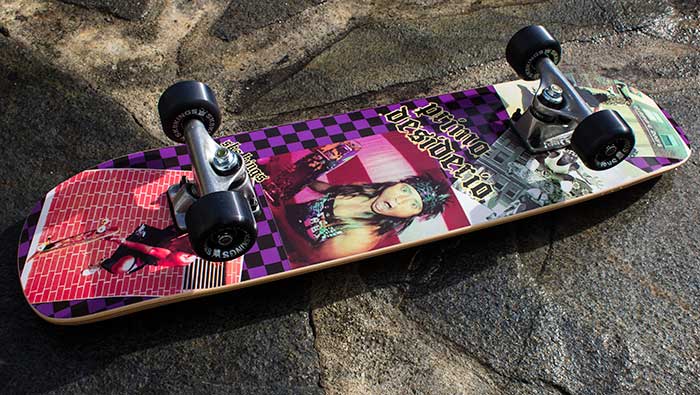 Optional Upgrades: Skid Plates: Add a set of our King Plate skid plates to protect and add longevity to your Primo deck. Grip Tape: Add a sheet of black grip tape for your deck. Choose upgrades when ordering -- additional charge applies. Note: Skid plates and grip tape come unapplied unless you request otherwise in the notes section. Logo Tee/Hoodie/Hat: Save $5 on a logo T-shirt, Hoodie or Hat when ordered with a deck or complete. Choose the item to add and indicate logo choice and size in the notes section when ordering.
Check out Primo's Profile at: TEAM RIDER PAGE
For International Shipping Rates inquire by e-mail: info@sk8kings.com Rates vary by country so please include your shipping address in e-mail.