Sk8Kings Slalom Completer Kit - Everything but the deck - Trucks/Wheels/Bearings/Wedging/Hardware/Grip
Already have your deck? The Sk8Kings Completer Kit has everything you need to make your skateboard rock! Having the right components are key and we've brought together this great package deal - saving you time and money too - a win win in our book. A particularly great way to finish off many of our Sk8Kings decks like the Axe Series, Yandall Pro, Mini-Shredder for sure but will also work for other decks too - longboards, slalom, cruisers and more. Note - you may request different truck sizes from what is specifed - to suit your needs - please list as much info as you can in the Notes section when requesting variances.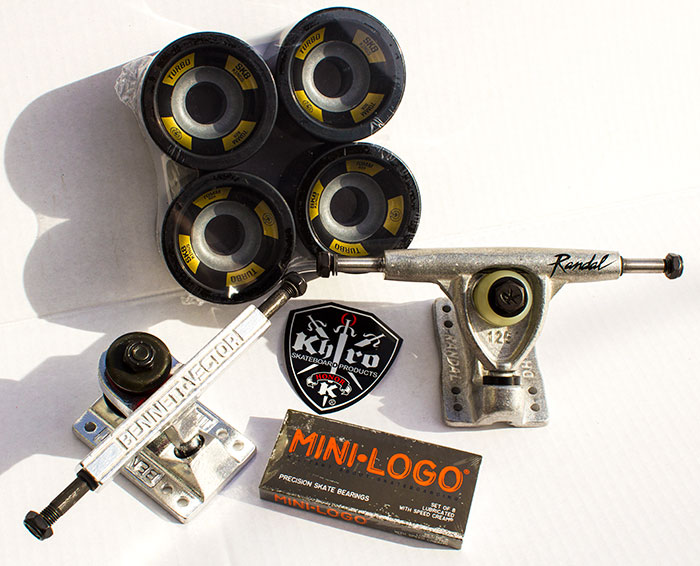 Our Budget-Friendly Completer Kit includes:
Trucks:

Bennett Vector 4.3 front / Randal 125mm 35d rear overhauled with custom bushing combos (Khiro & Tracker blend) based on rider weight/purpose ** Can opt for

Bennett/Bennett and/or specify a different size preference if desired

Wheels:

Sk8Kings Turbo Composite Core Wheels 70mm is standard - 75mm no charge upgrade option (duro mix - subject to availability)

Bearings:

Nitro Bearings (or Mini-Logo depending on availability) with steel bearing spacers installed

Khiro hardware and parts - custom wedge/dewedge truck set-up

Sk8Kings Medium Hardcore Grip Tape (black) for max foot grip
OTHER AVAILABLE UPGRADES:

Skennett/Skandal: Upgrade the stock trucks to our narrowed mod version - hangers are machined down to 101mm and 108mm for more flexibility in wheel spacing
Aircraft Steel Kingpins: Replace standard kingpins in stock trucks with extra strong aircraft standard kingpin bolts

Riptide Pivot Cups:

Upgrade from stock truck pivot cup to premium cups by Riptide

Hanger Facing/Pivot Smoothing:

Machine facing on hanger ends and pivot smoothing
Premium Upgrade: Choose this upgrade to switch out the basic bearings to Oust Moc 5 and premium grade bushing combos (Reflex/Riptide blend)
Oust Bearing Maintenance Bundle: Includes one bottle of Oust Metol Speed Lube and one Oust Speed Kleen Bearing Wash Kit at a special bundle price savings. Remove dirt and buildup from bearings with the Kleen Kit and relube with Metol Speed lube
Tell us what deck you have when ordering (in the Notes section) so we can customize the bushings/wedging configuration to best suit. Very helpful if you can send a pic of your deck or an online link to pix/details to us after ordering.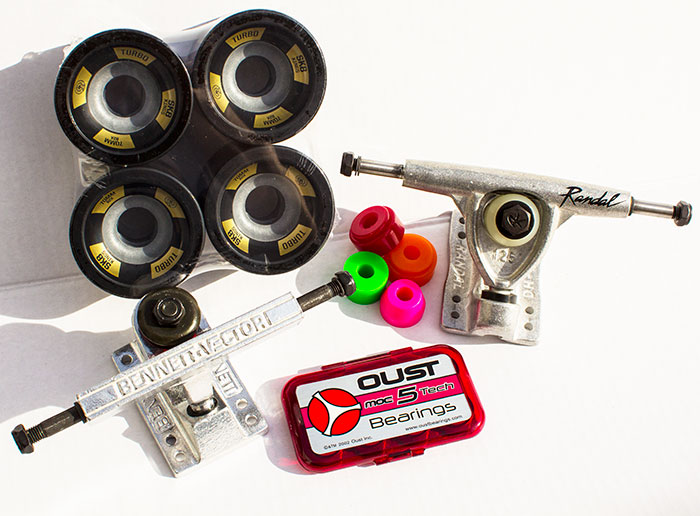 Customer Reviews
No Reviews Yet!