King Plate III - SK8KINGS Skid Plate
Prolong the life of your decks with our SK8KINGS nose and tail guards. The King Plate III is designed to fit wider park and bowl decks with a radius edge AND the Loaded Ceviche decks too.
Double drilled with countersink bolt holes -- gives extra life before you grind down to the bolt head. Super strong steel sex bolt mounting hardware included. Hardy yet light with a beveled edge for good control. CNC cut from UHMW plastic.
Dimensions: 5.94" (inside edge width) x 1.81" (deep/height) x 3/8" (thick) Note - blunt edge at tail is 3 3/4" Mounting holes are drilled 2.88" center to center
About Material: UHMW (ultra-high-molecular-weight polyethylene) offers a combination of exceptional properties. This thermoplastic material is tough with superior impact strength. It is corrosion-resistant and exhibits virtually no water absorption. It is also wear-resistant, non-sticking and self-lubricating.

Each skid plate sold individually with mounting hardware (enough for one nose or one tail) finish color may vary from pictured depending on stock available. Order quantity of "2" if using this size on both nose and tail of your deck. Also available as an upgrade option to our SK8KINGS Decks and Completes.
Mounting Notes: The black cylinder nuts go from top to bottom through the deck (so the low profile head is nearly flush with the deck top) and the screws goes in through the bottom -- tightening into the black cylinder -- similar to the way a typical lock nut would work. This hardware is extra strong like that so perfect for mounting the plates. Lay the plate on the deck surface you will mount to - mark the deck surface through the center of drill holes - and then drill for the size of the black piece (drill bit size is 7/32). Tip - Use a pointed screwdriver or similar to make a slight indention on each drill hole to have a start point for your drill bit to grab. With deck secure - drill straight through. When it's mounted - the top will be basically flush and the screw heads will be recessed in the drill hole countersink underside of the plate.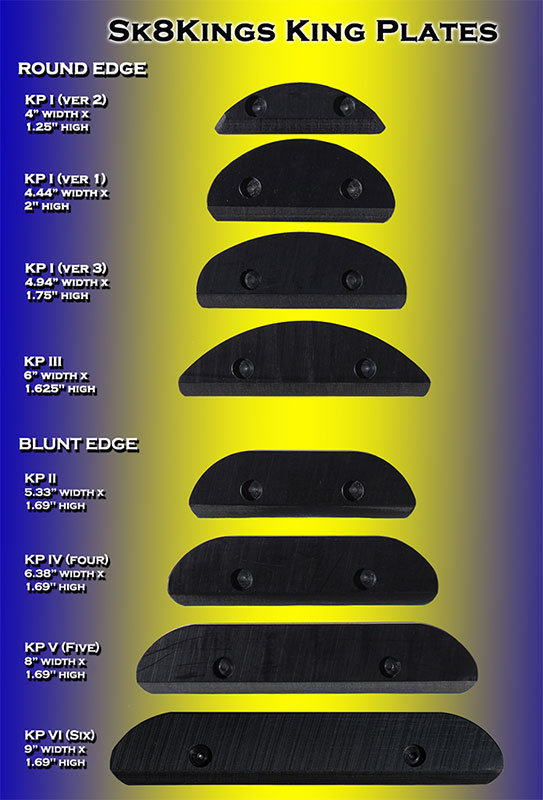 Customer Reviews
No Reviews Yet!