Sk8Kings Slalom Completer Kit - Everything but the deck - Trucks/Wheels/Bearings/Wedging/Hardware/Grip
Already have your deck? The Sk8Kings Completer Kit has everything you need to make your skateboard rock! Having the right components are key and we've brought together this great package deal -- saving you time and money too -- a win win in our book. A particularly great way to finish off many of our Sk8Kings decks like the Axe Series, Yandall Pro, Mini-Shredder for sure but will also work for other decks too - longboards, slalom, cruisers and more.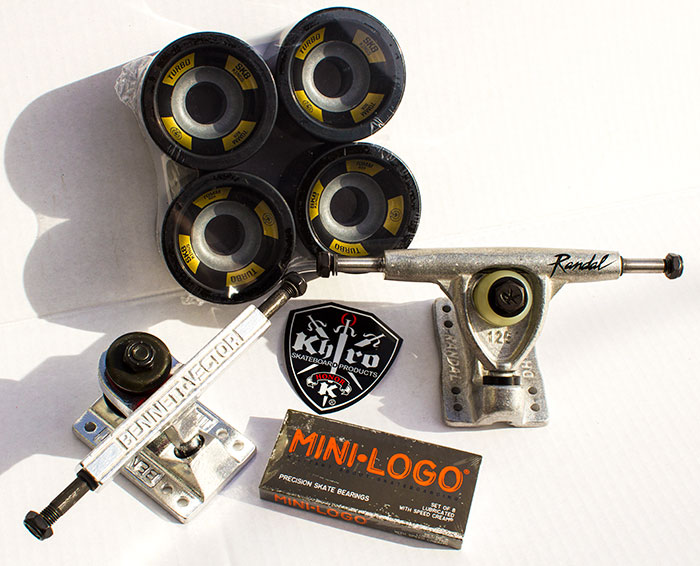 Our Budget-Friendly Completer Kit includes:
Trucks: Bennett Vector 4.3 front / Randal 125mm 35d rear overhauled with custom bushing combos (Khiro & Tracker blend) based on rider weight/purpose
Wheels: Sk8Kings Turbo Composite Core Wheels (70 mm/duro mix - subject to availability)
Bearings: Bones Mini-Logo Abec 5 Bearings with steel bearing spacers installed
Khiro hardware and parts - custom wedge/dewedge truck set-up
Sk8Kings Medium Hardcore Grip Tape (black) for max foot grip
PREMIUM UPGRADE: Take the basic package up a notch ... Choose this upgrade to switch out the bearings in the package above to Oust Moc 5 and Premium Bushing Combos (Reflex/Riptide blend).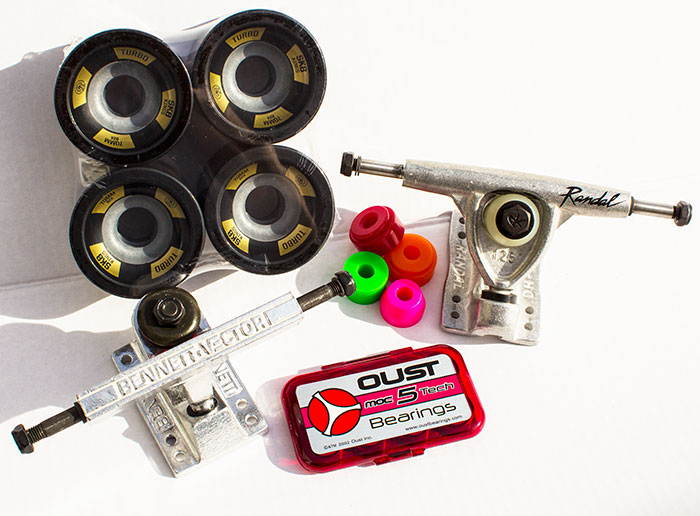 Tell us what deck you have when ordering (Notes) so we can customize the bushings/wedging configuration to best suit.
For International Shipping Rates inquire by e-mail: info@sk8kings.com Rates vary by country so please include your shipping address in e-mail.