Mini-Shredder Deck - Woody Series Mini Cruiser/Slalom 27" x 8 1/2", Multi-Wheelbase: 13 3/4, 15 1/4, 18" - All Maple Construction
Sk8Kings Mini-Shredder -- the solution to your mini-cruising or grom slalom needs! Featuring concave, kicktail, multiple-wheelbases, fully-routered wheelwells, tail skid plate option -- this killer little shredder is just 27" long with a comfortable 8 1/2" width -- the perfect go anywhere fun ride! Great beginner slalom setup for mini-racers and 100% So Cal Made.
This mini-sized board is so versatile and small enough to fit in your locker or backpack too.
DECK SPECS: Overall dimensions: 27" x 8 1/2", Multi-Wheelbase: 13 3/4 (functional kick tail), 15 1/4 and 18" (kicktail mount) Features: Non-cambered molded concave with tail kick foot wedge and truck mount. Hand-crafted entirely in Southern California using micro-core wood lams. Screen printed with our latest Red Glow in the Dark graphic.
UPGRADE OPTIONS: Two options to choose from! THE WORKS -- Want to bolt your trucks on and go? We can expertly outfit your deck with proper riser combos & mounting hardware (for both trucks) and Hard Core Grip Tape for you. Choose "The Works" option and specify wheelbase choice. Decks are multi-drilled so you can always change your wheelbase later as needed. GRIP TAPE ONLY -- Choose this option and your deck comes gripped with black Medium Hardcore grip tape. Custom Stripe Grip Top --available. Choose from Glow in the Dark stripe or Red & Black stripe when ordering.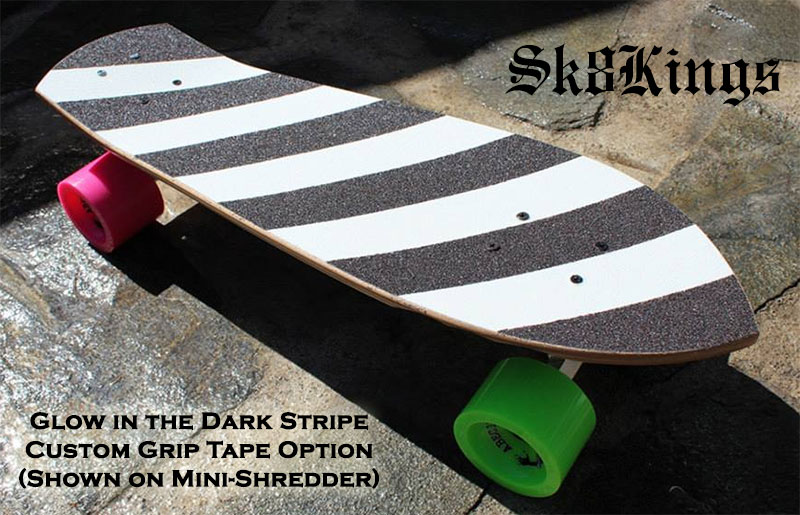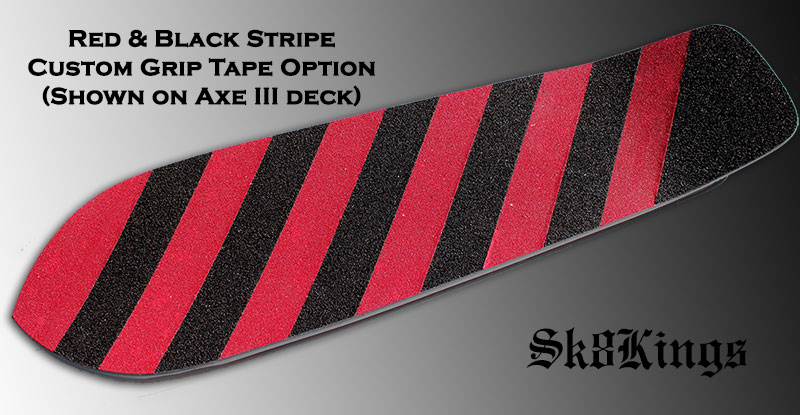 COMPLETES: Also available in complete setups -- see related product links below.
For International Shipping Rates inquire by e-mail: info@sk8kings.com Rates vary by country so please include your shipping address in e-mail.