Venom Eliminator Bushings - SHR Formula - Seven Durometers
The Eliminator is a modern reinvention of the classic "stim shape" and is available in seven durometers of Venom's Super High Rebound formula. The stepped-out design puts more urethane under your feet so you can run a softer duro and still maintain stability. The extra urethane means more turn, less wobble, and more rebound for an extra-juicy feel. Sold in two-pack -- enough for one truck.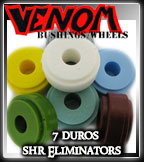 Offered in seven durometers:
80a - Olive Green
83a - Pastel Yellow
86a - Pastel Blue
88a - Seafoam Green
91a - Dark Red
94a - White
98a - Grey
Customer Reviews
No Reviews Yet!