Rogue Trucks - 140-150mm or 160-170mm Truck -
50º, 43º, 30º or 20º baseplate choice
Rogue trucks are designed by top pro and Venom originator Zak Maytum and extensively tested on the world-cup circuit -- the Rogue truck is strong, simple, and sensible.
Note this latest version features design updates based on feedback from the community and Rogue team riders. From Rogue: We left the trusted Rogue geometry alone, keeping the insert bushing concept and 2mm of rake to keep the riding experience consistent and smooth. First thing we updated, was a chamfer in the insert bushing seat. Taking a minute amount of material out of the bottom of the insert bushing seat allows easier assembly and disassembly of the truck with less contact from the kingpin. The second update comes from a weight saving perspective. Rogue most consistent complaint was how heavy an assembled truck weighed. We took this to heart and made adjustments to lighten the truck without compromising the strength that Rogue is known to have with a wing-cut in the baseplate, and reliefs in the hanger.
Sold individually - order quantity of two for one complete skateboard.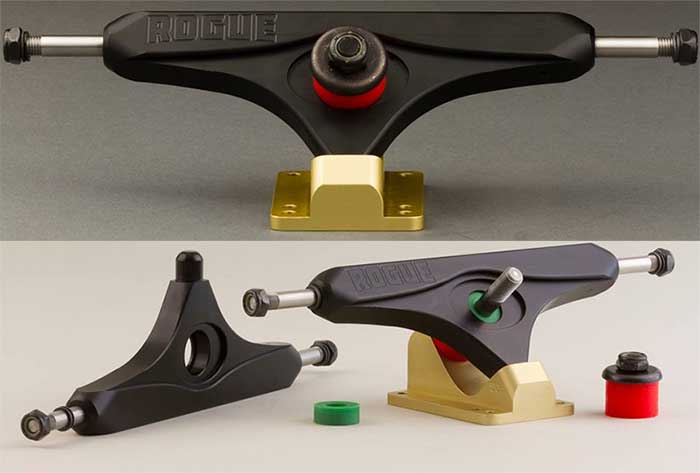 - Oversize .75" Venom bushings for maximum lean and turn depth
- Each set ships with 90a red in the trucks and one pack each of 93a green and 87a purple tall barrels to let you dial in your turn response
- Green 93a High Performance Formula insert bushing in the hanger controls slop for a precise, predictable ride
- The pressed-in steel "Traction Bar" through-axle is secured with a spring-loaded pin so it will never slip, unscrew, or come loose
- Available with 50º, 43º, 30º or 20º baseplate, all gold
- Black hanger
- Green 93a Venom pivot cup
- Lifetime no-bend guarantee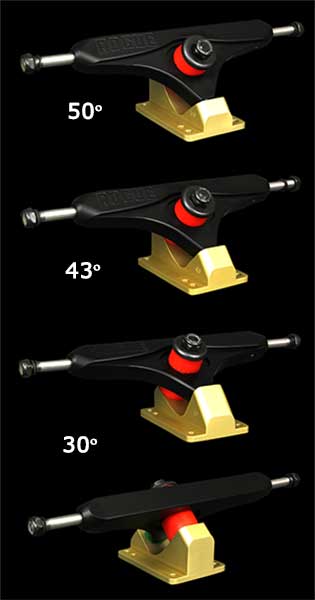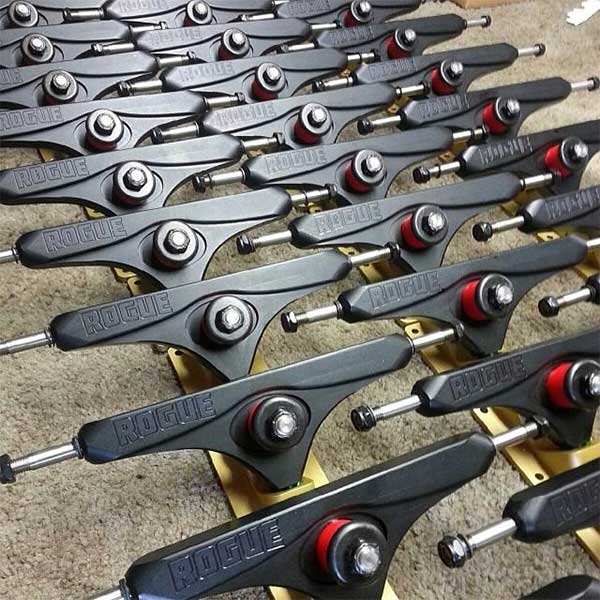 Customer Reviews
No Reviews Yet!