Radikal Bushings
- 70a and 80a Duros / 2 Shapes
(Sold individually for mixing and matching)
SK8KINGS is stoked to offer the new issue of bushings from Radikal. Made with high-rebound urethane formula -- the new issue offers an improved molded bevel on the inner edge for spherical bearing clearance. Available now in 80a red (reminiscent of the original Radikal clear bushing) in two shapes -- the original barrel-style and a new tall cone shape.
Sold individually (1 bushing - for mix and match options)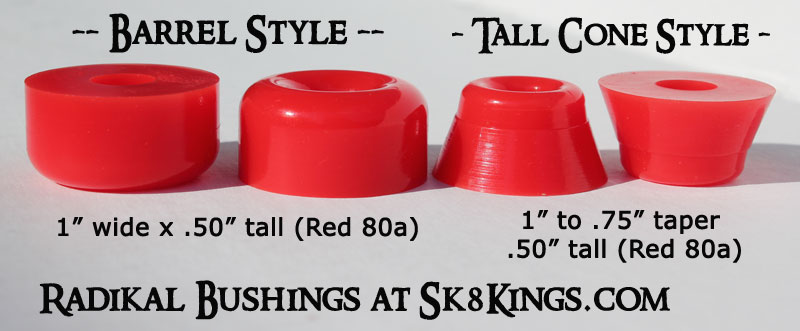 Style/Size:
Barrel Bushing- cylindrical shaped bushing with rounded top edge -- .50" tall; 1" wide - great for stability
Cone Bushing - tall conical shape for deeper carves -- .50" tall; 1" wide bottom tapers to .75" at the top
Add Cupped or Flat Washer:
Choose this option to add cupped or flat washer to your bushing order.
Customer Reviews
No Reviews Yet!