ULTIMATE SERIES COMPLETE - MAXIMUS - Carbon Fiber Composite
Order your Maximus Ultimate Complete ready to race out of the box. Fully loaded with select quality components -- the Maximus Ultimate complete comes expertly built and tweeked for performance specifically to suit the rider and intended discipline. An excellent choice for GS and Super-G slalom racers of all levels - this set-up offers stability and proper size for steeper hills and wider set turns - while still maintaining the control and manueverability inherent with the AXE Series decks. Maximus is an excellent base for a Maryhill ripper setup. Not just for racing - this complete can be configured to function great for carving hills, riding parks & ditches, long distance pumping -- just let us know what you want to do with it and we'll work it out.
Deck Specs and Features:
Overall dimensions: 35" x 9" - Multi WB: 24/25/26" plus bonus cruiser mount for functional kicktail
Maximus Rampant Lion graphic in Blue Glow-in-the-Dark
Composite Construction: Carbon fiber outer laminates with maple micro-lam cores - for performance drive and unmatched durability
Pre-drilled for multiple wheelbase options

Non-cambered race ready molded concave for perfect foot placement
Revolutionary Torsion Tail concept - rear truck mounted in the kicktail angle - a natural tail kick foot wedge (we introduced this concept in 2003 - changing slalom deck design from then on)

Functional Kick Tail - optional to mount rear truck before the kick tail - tail skid plate also available

Manufactured in small batches in So Cal USA

Axe Series Decks have been winning World Championships since 2004
COMPLETE STANDARD COMPONENTS:
Deck: Maximus Ultimate Series Carbon Fiber Composite Deck
Trucks: Bennett Vector 4.3 front / Randal RII 125mm 35d rear for Torsion Tail setup; Bennett Vector 4.3 both front and rear for Functional Kicktail setup - overhauled with premium grade custom bushing combos (by Riptide) based on rider weight/purpose
Wheels: Sk8Kings Turbo 70mm Composite Core Wheels (or comparable brand - subject to availability)
Bearings: Oust Moc 5 Tech Bearings (or comparable brand - subject to availability) with steel bearing spacers installed
Khiro hardware and parts - custom wedge/dewedge truck set-up
Sk8Kings Medium Hardcore Grip Tape (black) for max foot grip

CUSTOM BUILT FOR YOU: Specify rider weight when ordering AND what discipline you intend to ride the most (ie - racing hybrid/GS or a non-racing application) so we can use the correct wheelbase and dial all components accordingly. To make your setup even more versatile -- choose the "Alternative bushing combo" upgrade and you will receive an additional bushing setup (for a softer or stiffer ride to suit another style, course size, etc.)
OPTIONAL UPGRADES -- Available for this Complete (choose when ordering):
High Performance Trucks: Choose from the list at checkout to upgrade for the ultimate set-up to suit your budget.
Wheels: Upgrade to Turbo Aluminum Core Wheels at a sweet price! Or choose from the list at checkout to upgrade wheels & make special durometer requests in the "NOTES" section if needed.
Aircraft Steel Kingpins: Replace standard kingpins in stock trucks (Bennett, Tracker or Randal) with extra strong Aircraft standard kingpin bolts.

Riptide Pivot Cups:

Upgrade from stock truck pivot cup to premium cups by Riptide
Back-up Bushings: Bushings are essential for top performance. Order backup sets for your trucks and be ready when you need to be. Choose "premium" for this upgrade to receive a duplicate of the premium bushings included in this build.
Alternative Bushing Combo: To make your setup even more versatile -- choose this upgrade to receive an additional bushing combo for your trucks to suit the opposite discipline. Just pop the other combo in your trucks, adjust your wheelbase and you're ready to go.
Oust Bearing Upgrade: Upgrade from Moc 5 to Moc 7 or Moc 9 bearings.
Oust Bearing Maintenance Bundle: Includes one bottle of Oust Metol Speed Lube and one Oust Speed Kleen Bearing Wash Kit at a special bundle price savings. Remove dirt and buildup from bearings with the Kleen Kit and relube with Metol Speed lube.
Custom Grip Top - Choose from several grip tape variations.

Logo Tee/Hoodie/Hat:

Save $5 on a logo T-shirt, Hoodie or Hat when ordered with a deck or complete. Choose the item to add and indicate logo choice and size in the notes section when ordering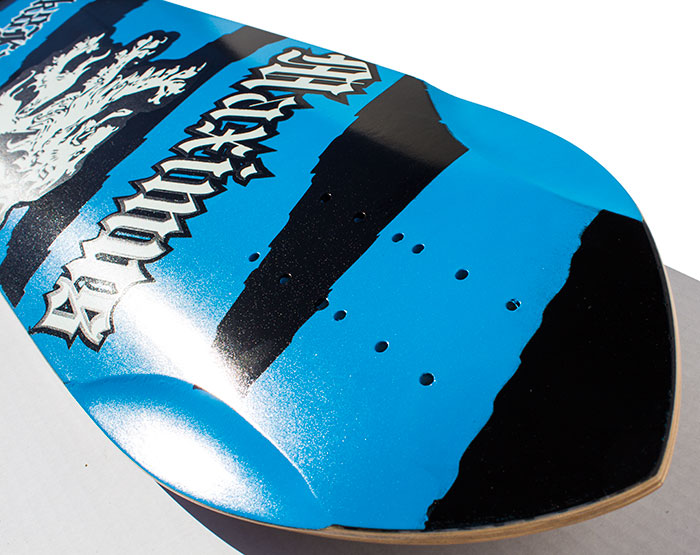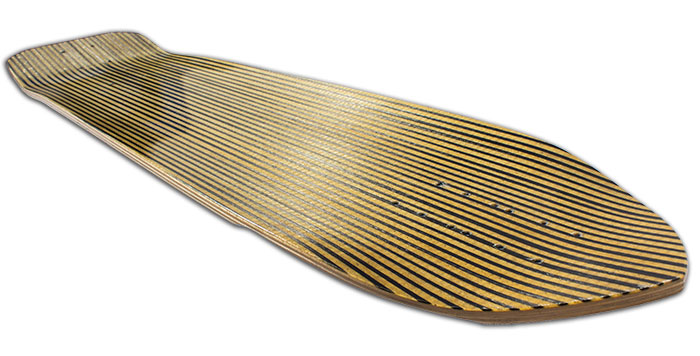 | | |
| --- | --- |
| | TORSION TAIL OPTION = mount in the kicktail for more flex and traction (use drill pattern in the kick tail angle) to set up for racing. Note: If you order the Torsion Tail Setup and a skid plate add on option -- the skid plate will come a la carte but deck will be drilled for skid plate mounting holes. EXTRA RISERS/MOUNTING HARDWARE-REAR TRUCK MOVE - Extra riser & mount hardware bundle is offered to move the rear truck to the Functional Kicktail Setup at your leisure. Choose option at checkout. |
| | |
| --- | --- |
| | FUNCTIONAL KICKTAIL OPTION WITH SKID PLATE = mount before the kicktail (use the pre-drilled truck mount in front of the kick) for a stiffer performance flex for riding parks & ditches and street cruising/LDP to pop the front end up over road obstacles in your path (railroad tracks, curbs, potholes, etc). King Plate IV (skid plate) recommended to protect your Maximus tail. |
Customer Reviews
No Reviews Yet!