Collector - PPS Duane Peters Thruster Deck - 8.75 x 32 wb 14.75
The DP Thruster Deck issued by Pocket Pistols in the early 2000's and are now long out of print. We've had them tucked away in our secret stash and these are the last of them so get one while you can. Each deck is "branded" with a batch serial # topside and are in perfect shrink-wrapped condition. Hand-screened graphics by Screamin Ink as shown. Please select from available colorways when ordering.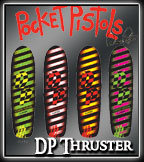 Grip Tape Upgrade: Choose this option to receive a sheet of grip tape to fit this deck. Choose from our Medium or Hard Core (very coarse) Grip Tape. Note -- grip tape sheet comes unapplied.
Customer Reviews
No Reviews Yet!