---
(SK8KINGS Team Riders pictured from upper left clockwise:
Richy Carrasco, John Pope, Primo Desiderio, Mike Heller, Rene Carrasco, Andre Walton & Diane Desiderio center)
---
::: JAM ONLY SALE & OTHER SURPRISES :::
We'll be offering special Jam Only Special Sale Prices but you have to be at the Jam for this one so don't miss out!
We're rolling-out our new line of Carrasco and Desiderio Pro Signature Decks -- and will have a supply of decks, completes and more freestyle gear for sale at special Jam Prices. See Maria Carrasco for a special price list when you get there.
Take a look at the NEW 360 KING AND PRIMO SLIDE DECKS -- NOW!
We'll be having a product prize give away once things get cooking so be sure to get your
free raffle ticket from Maria when you arrive.
Check out our JAM THREAD on our forum for more updates and to add your own post.
Looking forward to a great time once again. See you there!
CHECK OUT SOME PICS FROM SOME OF THE PREVIOUS JAMS IN OUR GALLERY:
JAM PICS and see the report from our previous 2005 events JUNE 26 JAM and JAN 30TH JAM
---
HERE'S A MAP SHOWING THE LOCALE: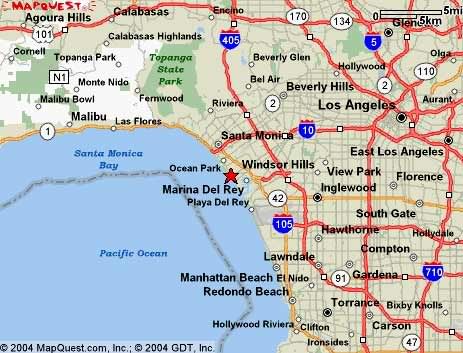 DIRECTIONS TO VENICE BEACH
Directions: To get to Venice Beach ( North of LAX ) from the 405 San Diego FWY -- Exit Venice Blvd and go west. Venice Blvd splits in two, stay to the right and it will become No. Venice Blvd. Stay on that and watch for Venice Way then take that off to the right. You will end up at Pacific and Windward. Windward dead ends at the strand. The jam site is out past all the lawns and slightly off to the right, just left of the little plaza skatepark.
The jam site is right next to the "plaza skatepark" on the beach near Windward Av.

---
WANT DIRECT E-MAIL NOTICE OF FUTURE EVENTS?
SUBSCRIBE TO OUR NEWSLETTER AT:
subscribe@sk8kings.com
NEED MORE INFO?
Send E-mail to: Maria@sk8kings.com
or call (714) 636-7308 (voice message/fax)
FOR MEDIA ARRANGEMENTS OR SPONSORSHIP OFFERS -- CONTACT:
OffTheRailsTV@aol.com