Surf Rodz - SZ Truck Pair -- 150mm (adjustable hanger to 160mm-170mm)
Black in Stock for Immediate Shipment
Sk8Kings is pleased to offer the SurfRodz SZ line of precision CNC-machined trucks. The SZ line introduces a unique adjustable truck system -- offering the capability of acheiving three different truck widths with just one pair of trucks. Baseplates available in 50, 45 and 35 degree combinations (specify choice of two when ordering). 50 and 45 degree recommended for front turning truck and 35 degree recommended for rear stable truck. These trucks are built for speed!
Available in several anodized finishes - please select when ordering.Note - mixed colors and polished finishes will incur an additional charge. Please note any mixed color/special finish preferences when ordering and we will advise of additional charge due.

SZ TRUCK KIT INCLUDES -

(2) Base plates (both hole patterns)

(2) Hangers

(2) Kingpins and nuts

(4) 60 mm x 8mm axle bolts

(2) Pivot cups

(4) Precision 8mm .403 wheel spacers

(4) Set screws

(8) Precision 8mm Axle spacers

(2) Allen Keys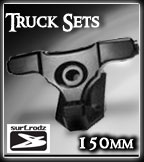 Surf-Rodz Truck System - Tech Info

BUSHINGS: Bushings are not included with the truck kits but are available as an add on option at a discounted price. Choose from Reflex or Venom when ordering and provide rider weight and intended usage (ie downhill stiff or carving med) for bushing durometer selection.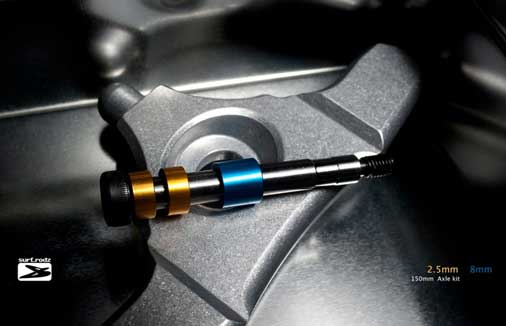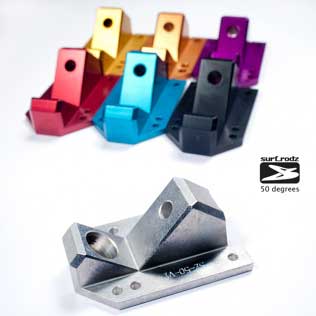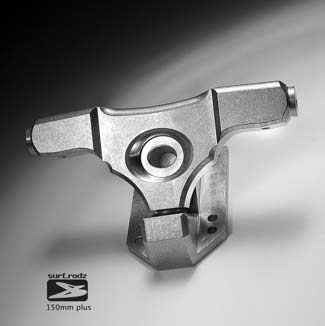 For International Shipping Rates inquire by e-mail: info@sk8kings.com Rates vary by country so please include your shipping address in e-mail.