Seismic Avila Clear Series Wheels - Pair of 2 wheels
75mm tall x 65mm wide Avila Wheels
Offset bearing seat
dual lip design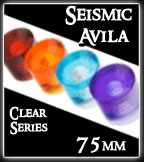 Seismic Clear Series Urethane in four colors / three durometers
Clear Vintage Red 73A
Clear Orange 73A
Clear Blue 75A
Clear Purple 77A

Sold in sets of two wheels - to allow mixing if desired. Order quantity 2 for one complete skateboard.
Great for all-purpose longboarding and cruising, and among the world's best wheels for giant slalom, Super-G, banked slalom, bordercross, and downhill. Weighing more than 1/2-pound EACH, the Avilas bring new meaning to the terms "roll speed" and "inertia." Named after a favorite training ground for Central Coast racers, and the site of the 2002 World Slalom Championships, the Avilas dominate on long courses.
For International Shipping Rates inquire by e-mail: info@sk8kings.com Rates vary by country so please include your shipping address in e-mail.
Customer Reviews
No Reviews Yet!