Radikal Dragon's Wing 2009 Edition -- Rear Slalom Pro Racing Truck
Since 2003, the excellence of Radikal Trucks has been proven by some of the top pro riders in this modern era of slalom racing. The 2009 Wing hanger has been streamlined to perfection at 1/4" overall narrower width for added flexibility. Each Dragon's Wing features a 35 degree baseplate and two (2) spherical high performance bearings -- one in the hanger and one in the pivot base -- for precision stability and control. The Dragon's Wing is designed to be used as a rear truck. Hanger and baseplate are crafted from 61-T6 aircraft grade billet aluminum in anodized satin finish colorways: silver, black and blue color choice subject to stock on hand.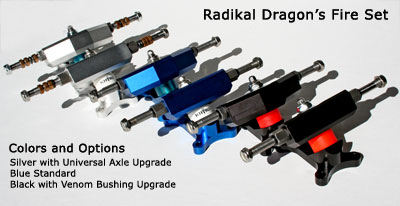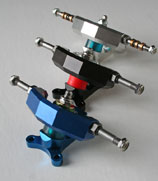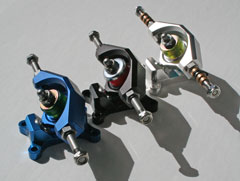 Axles: .The Wing ships stock with coarse thread 1/4" axles installed. Other axle sizes are sold seperately in pairs to achieve different overall width dimensions -- see related items and upgrade option below.
Bushings: The Radikal Wing ships with SK8KINGS custom bushing combo (Khiro/Tracker mix) for maximum rear truck stability. (Note -- Radikal brand bushings are out of stock from the manufacturer and not availalble at this time). Reflex or Venom Bushings can be specified as an upgrade (details below).
Limited Availability: We make every effort to keep stock in all colors on hand but please note second color choice in notes section or inquire first info@sk8kings.com to avoid unexpected delays.
OPTIONAL UPGRADES:
Universal Axle Upgrade: Upgrade to our SK8KINGS Universal Axle in 1/4" size for greater flexibility in spacing and wheel clearance with one set of axles. Extra Axle Pairs: Add additional sizes of axle pairs to your purchase. Choose from Radikal axle sizes: 3/8", 1/2", 5/8", 3/4", 1" OR choose SK8KINGS Universal Axle sizes 1/4" or 1/2". Note -- Dragon's Wing is now designed for use with coarse thread axles ONLY. Previously owned fine thread axles will not fit the current Wing hanger. Premium Bushings: Reflex or Venom Bushings upgrade available. Choose option when ordering and specify duro preferences in Notes section or we choose. Replacement Kingpins: Order a back up Radikal Kingpin -- note Radikal recommends replacing the kingpin annually.

For International Shipping Rates inquire by e-mail: info@sk8kings.com Rates vary by country so please include your shipping address in e-mail.