Bennett Retro Color Alligator Wheels -- 62mm -- four colors in 78a durometer (Set of 4)
Genuine Bennett -- Classic designs revisited
Alligator wheels were first introduced in 1977 and at the time, were the most sought after new product. Today's Alligators feature a new high performance "total memory formula" urethane. Alligators are designed with an offset bearing seat, precision core and with a rounded outer lip for maximum grip. This latest release features an all new Retro color scheme. Order your four-pack -- all one color or an assorted pack of all four colors (one of each)!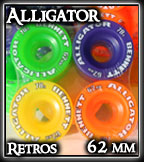 Specs: 62mm in four colors:

• 78 duro green
• 78 duro purple
• 78 duro orange
• 78 duro yellow

Sold in sets of four wheels and includes a free Alligator sticker!

For International Shipping Rates inquire by e-mail: info@sk8kings.com Rates vary by country so please include your shipping address in e-mail.