Reflex Zig Zag WHEELS -- 66 MM -- BY ABEC 11/Retro (Set of 2 Wheels)
Description:

Name: ZigZags
Height: 66mm
Durometers: 80a lime, 83a lemon, 86a orange, 89a orange plus
Width: 51mm
Contact Patch: 48.5mm
Hub: 25mm
Hub Setting: OS Offset
Depth of Urethane: 20.5mm
Edges: Square
Disciplines: The quicker smaller hard-carving, pumping and slalom specific wheel. "Reflex" formulas for Slalom racing.
Sold in sets of two wheels - for duro mix and match flexibility. Order quantity of 2 for one skateboard.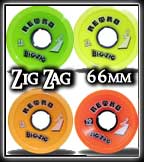 For International Shipping Rates inquire by e-mail: info@sk8kings.com Rates vary by country so please include your shipping address in e-mail.
Customer Reviews
No Reviews Yet!