Sk8Kings Custom Medium Size Gear Bag - Hand Carry Style with Zipper Close
(36" x 9" x 8" outer dimensions)
Our very popular gear bag -- now in a slightly-scaled down medium size – features rugged canvas fully padded construction, heavy weave nylon handle carry straps and heavy duty stitching throughout for added durability. The clam-shell style lid zips open for full easy access to the contents. This bag is 100% custom made in So Cal to our specs. Perfect for hauling your gear for local road trips or when traveling by air. Combined linear dimension = 53 inches -- an acceptable size to check on most airlines.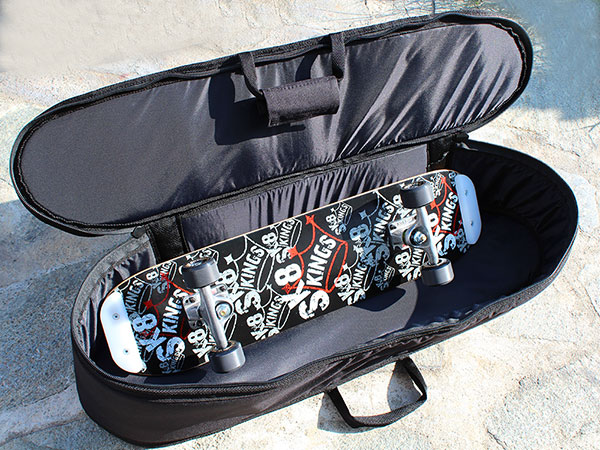 Sized at 36" x 9" x 8" to carry two short board completes (perfect for freestyle, street, park sized decks) and accessories with ease. In black -- of course -- and screen printed with our Old English logo in white.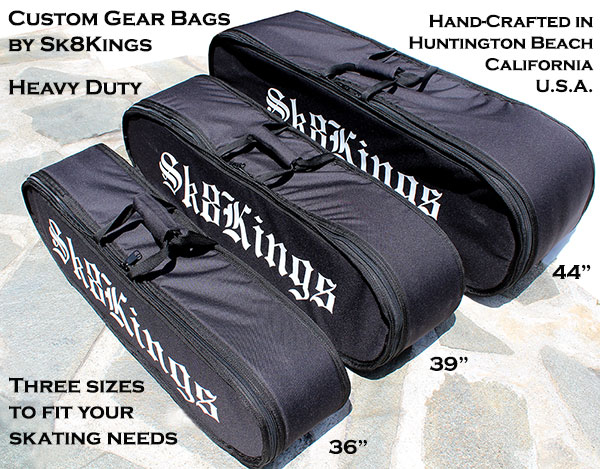 Also available in large 39" and x-large 44" sizes: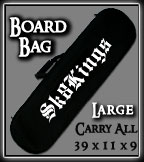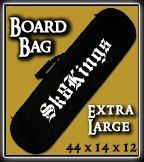 Reviews/Customer Feedback:

Just thought id drop an email to say thank you very much for the advice on the board bags, and what a pleasure it has been using the one i ordered (the 39" one) Not only can i fit in 7 decks, a few set of wheels and trucks, some shirts, a set of smiths scabs knees and a towel, but after traveling over 3000 miles via various airlines and transfer airports, i arrive at the final airport to see, much to my relief that the back is still in the same condition that i checked it in....a very rare thing indeed! Thanks once again to you and all at sk8kings for making a bloody great sturdy solid well made product at an unbeatable price! -- Frazer via email
For International Shipping Rates inquire by e-mail: info@sk8kings.com Rates vary by country so please include your shipping address in e-mail.