Sk8Kings Custom Gear Bag - Hand Carry Style with Zipper Close (39" x 11" x 9" outer dimensions)
Bags are back in stock and shipping Now!
Our custom designed gear bag – features rugged canvas fully padded construction, heavy weave nylon handle carry straps and heavy duty stitching throughout for added durability. The lid zips open for full easy access to the contents and features a full-size zipper pocket on the inside lid. This bag is 100% custom made in So Cal to our specs. Perfect for hauling your gear for local road trips or when traveling by air. Combined linear dimension = 59 inches -- an acceptable size to check on most airlines.

Sized at 39" x 11" x 9" to carry two completes, safety gear and plenty of accessories with ease. In black -- of course -- and screen printed with our Old English logo in white. Ideal for 36" deck sizes.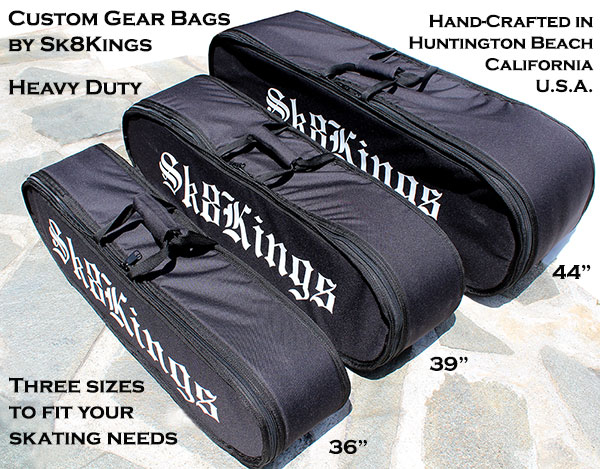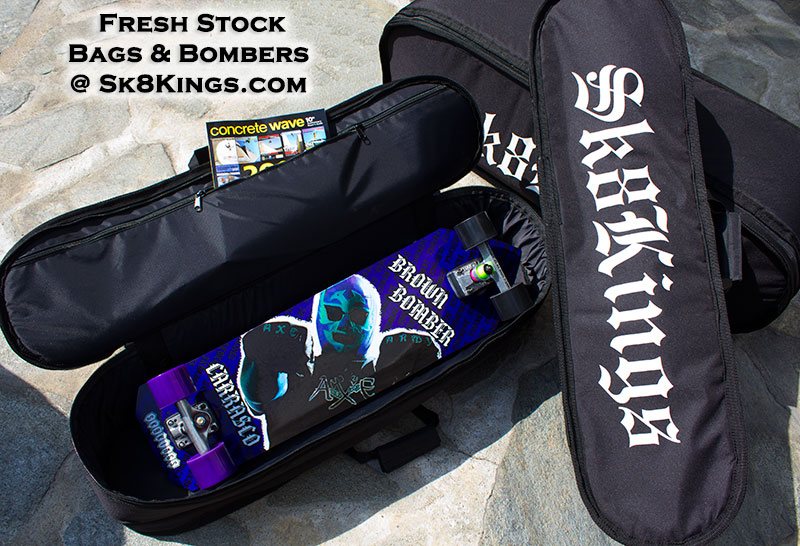 Reviews/Customer Feedback:

Just thought id drop an email to say thank you very much for the advice on the board bags, and what a pleasure it has been using the one i ordered (the 39" one) Not only can i fit in 7 decks, a few set of wheels and trucks, some shirts, a set of smiths scabs knees and a towel, but after traveling over 3000 miles via various airlines and transfer airports, i arrive at the final airport to see, much to my relief that the back is still in the same condition that i checked it in....a very rare thing indeed! Thanks once again to you and all at sk8kings for making a bloody great sturdy solid well made product at an unbeatable price! -- Frazer via email
For International Shipping Rates inquire by e-mail: info@sk8kings.com Rates vary by country so please include your shipping address in e-mail.