Sk8Kings 2X Truck (One Truck) - Slalom, LDP and more
Back in Stock - April 2013 ! -- We are stoked to offer our 2X Truck -- one truck that works double-time. With this super versatile truck solution -- the hanger works for either front or back by moving the axle location (double-tapped) and flipping the hanger. Designed to be compatible with Randal-style baseplates - which we've upgraded with AN bolt kingpins. The 2X hanger features machined ball pivot, a spherical bearing and comes outfitted with screw-in extra long 8mm axles (easily changed or replaced). Our axle system offers three shoulder sizes - .25", .50" and .75" - to vary the truck width and wheel spacing options. Steel axle spacers included. Hanger width can go from 4" to 4.5" to 5.0". Recommended set-up options: 50 degree baseplate for front turny truck, 35 degree baseplate for rear stable truck or 42 degree for general purpose carving setup. Specify choice of baseplate and axle size when ordering. Comes with standard grade bushing combos customized for rider weight and noted discipline - please specify both when ordering.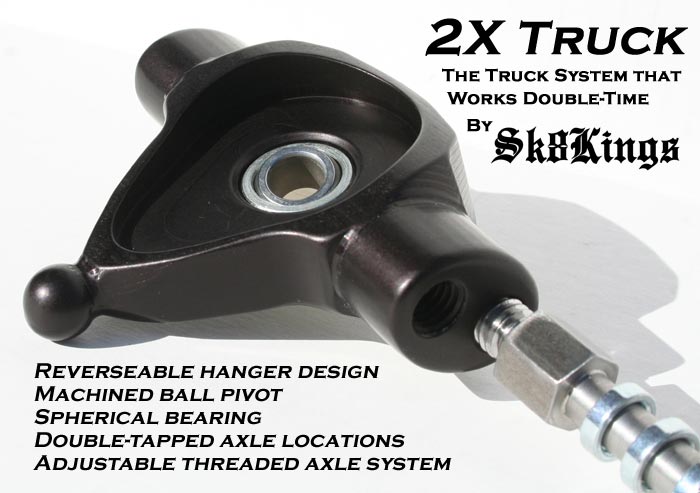 Single 2X Truck Includes:
One black anodized finish reversable hanger
One Randal (50d, 42d or 35d) silver baseplate
Kingpin - Stainless steel or AN 3.0" as available
Spherical bearing (installed in hanger)
One pair screw-in coarse thread 8mm axles (.75", .50" or .25")
Steel axle spacers (.125" each for customized wheel spacing)
Custom standard grade bushing combo (premium upgrade available)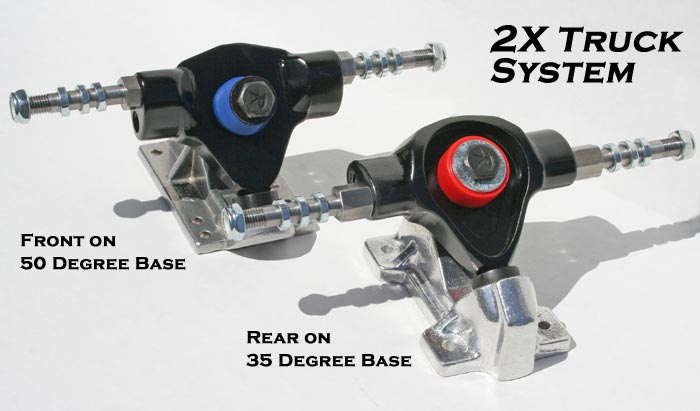 2X Truck Axle System:
Constructed from 4340 aircraft steel in 8mm axle shaft size. Designed to work with standard thread/size 5/16 axle lock nuts and 8mm wheel bearings.
Offered in coarse thread in three sizes as follows:
1/4" (.25") shoulder - coarse thread (overall dimension is 2 3/8" end to end)
1/2" (.50") shoulder - coarse thread (overall dimension is 2 5/8" end to end)
3/4" (.75") shoulder - coarse thread (overall dimension is 2 7/8" end to end)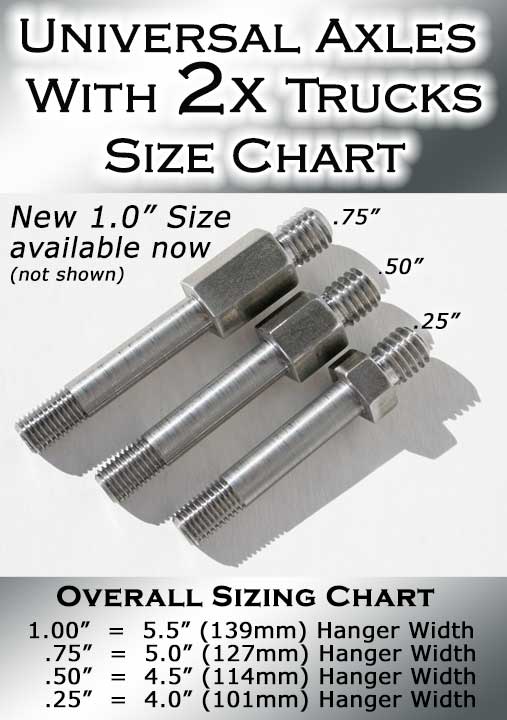 OPTIONAL UPGRADES:
PREMIUM BUSHINGS: Highly recommended upgrade option. Choose Premium upgrade (combos from Venom and Reflex bushings). Please provide the rider's weight and intended discipline in the notes section when choosing this upgrade option. Extra axle pairs are sold separately.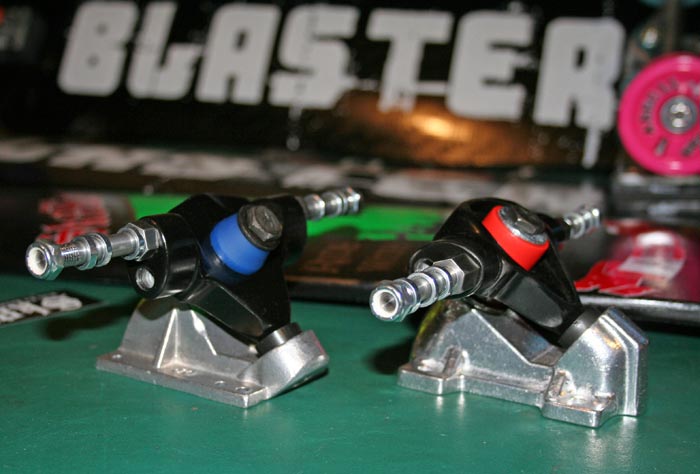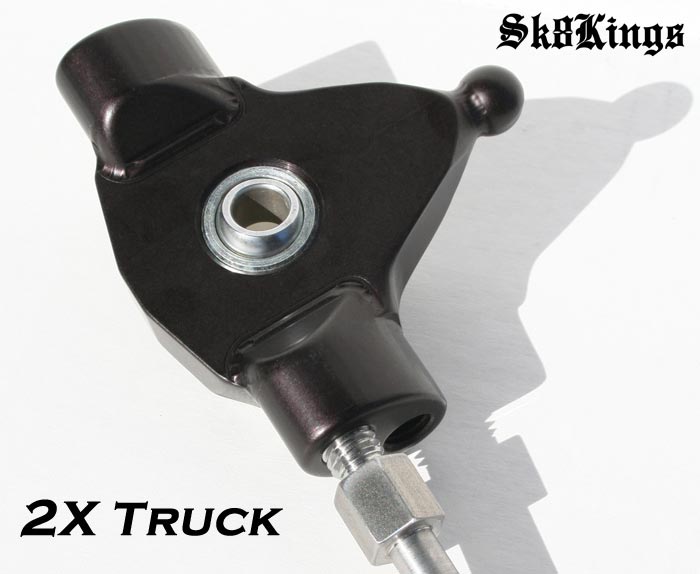 For International Shipping Rates inquire by e-mail: info@sk8kings.com Rates vary by country so please include your shipping address in e-mail.