Sk8Kings 2X Truck (One Truck) - Slalom, LDP and more
The Sk8Kings 2X -- is an excellent performance truck -- that works double-time. With this super versatile truck solution -- the hanger works for either front or back by moving the axle location (double-tapped) and pairing with the appropriate degree baseplate. The 2X hanger features a spherical bearing, post pivot, and comes outfitted with screw-in extra long 8mm axles (easily changed or replaced). Designed with Randal-compatible geometry the 2X hanger mates with various degree baseplates to suit specific riding purposes.
The axle system offers .25" shoulder size for a hanger width of 4" minimum (101.6 mm) and 4.75" maximum (120.65 mm). Course thread screw in style design offers easy replacement as needed and a generous 1 5/8" axle shaft for plenty of wheel spacing versatility with the included axle spacers. Axle shaft is 8mm and designed to work with standard thread/size 5/16 axle lock nuts and 8mm wheel bearings.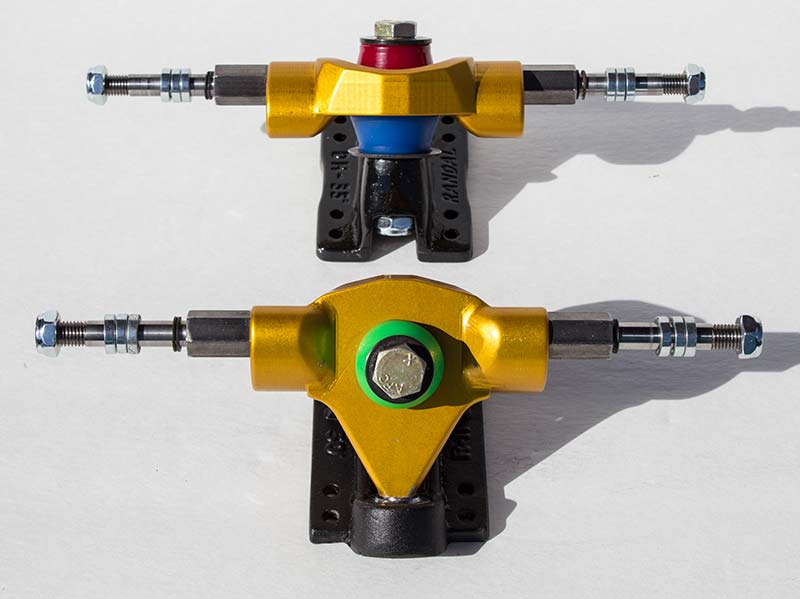 Available set-up options: 50 degree baseplate with spherical pivot for front turny truck, 35 degree baseplate with spherical pivot for rear stable truck. Matched up with Randal baseplates - which we've completely overhauled -- upgraded with super-strong aircraft grade AN bolt kingpin & nut, spherical bearing pivot, custom premium grade bushings (Riptide or Reflex) and washer hardware. Sold individually for front or rear -- for a complete skateboard - order one of each.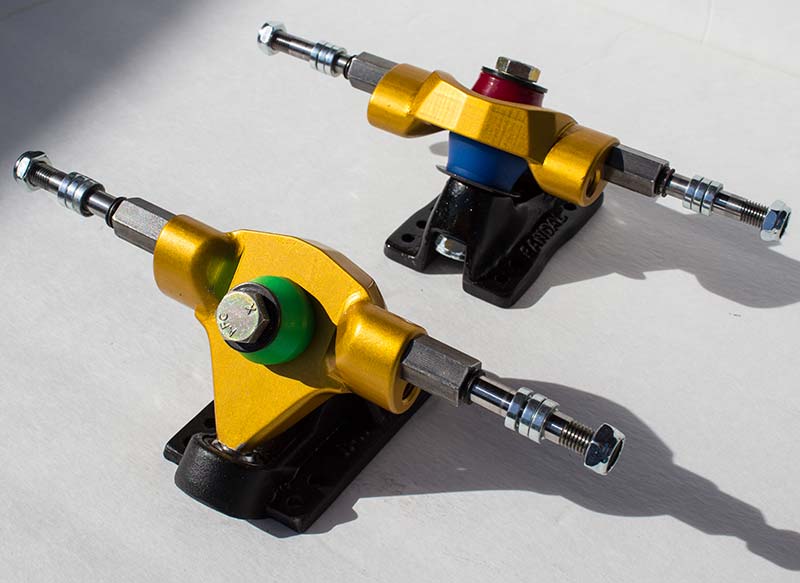 Single 2X Truck Includes:
One gold anodized finish reversable hanger
One silver (or black as available) finish (50d or 35d) baseplate with spherical bearing pivot modification
Kingpin - aircraft grade steel bolt
Spherical bearing (installed in hanger)
One pair .25" screw-in coarse thread 8mm axles installed
Axle spacers (for customized wheel spacing)
Custom premium grade bushing combo installed
Comes with premium grade bushing combos customized for rider weight and noted discipline - please specify intended discipline when ordering.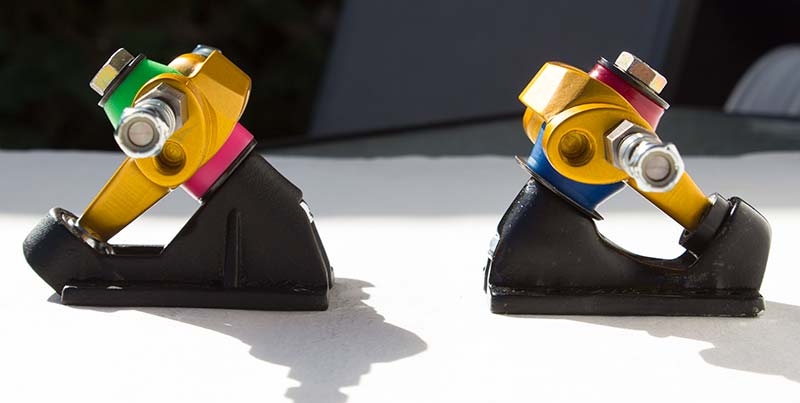 For International Shipping Rates inquire by e-mail: info@sk8kings.com Rates vary by country so please include your shipping address in e-mail.