WOODY SERIES COMPLETE - JOE MCLAREN AXE - WORLD CHAMPION PRO MODEL - 7-ply maple micro-core construction
32" x 8 5/8"
Dual wheelbase: 21 1/4" & 22 1/4"; plus functional kicktail rear bonus mount
NEW fully routered wheel wells - nose and tail
Tartan Beast Glow in the Dark graphic
World Championship Winning Race Decks Since 2004
Axe Woody Series - maple micro-core construction
Designed by Joe "The Beast" McLaren - 7-time and reigning Pro Slalom World Champion. The Woody Series Joe McLaren Axe features the same shape and dimensions of the Ultimate carbon fiber version but in extra affordable all maple construction.
Order your WOODY JOE MCLAREN AXE ready to race out of the box. Fully loaded with select quality components -- the Joe Mac complete comes expertly built and tweeked for performance to suit the rider and intended discipline. An excellent choice for racing nearly any loose TS/hybrid/GS slalom courses -- this set-up offers a wider-tail mid-size deck with wheelbase options for max versatility. A perfect one-board quiver solution able to handle quick cutting at speed as well as stability and control for bigger stuff. Not just for slalom racing -- this complete can be configured to function great for non-racng too -- max fun for carving/cruising, ditches or just longboarding around town. Let us know what you want to do with it and we'll work it out.
COMPLETE STANDARD SPECS AND COMPONENTS:
Features the Joe McLaren Axe Woody Series Deck -with NEW Tartan Beast Glow in Dark graphic, Race winning concave and kick tail truck mount deck design, Overall dimensions: 32" x 8 5/8", Dual Wheelbase: 21 1/4" & 22 1/4"plus bonus cruiser WB (choose for functional kicktail - skid plate optional)

Trucks: Bennett Vector 4.3 front / Randal 125mm rear (subject to availability) overhauled with custom bushing combos (Khiro & Tracker blend) based on rider weight/purpose
Wheels: Sk8Kings Turbo Composite Core Wheels (70 mm/duro mix - subject to availability)
Bearings: Bones Mini-Logo Abec 5 Bearings with steel bearing spacers installed
Khiro hardware and parts - custom wedge/dewedge truck set-up
Sk8Kings Medium Hardcore Grip Tape (black) for max foot grip
ALL 100% USA MADE
CUSTOM BUILT FOR YOU: Specify rider weight when ordering AND what discipline you intend to ride the most (ie - racing hybrid/GS or a non-racing application) so we can use the correct wheelbase and dial all components accordingly. To make your setup even more versatile -- choose the "Alternative bushing combo" upgrade and you will receive an additional bushing setup (for a softer or stiffer ride to suit another style, course size, etc.)
OPTIONAL UPGRADES: High Performance Trucks: Choose from the list at checkout to upgrade for the ultimate set-up to suit your budget. Wheels: Choose from the list at checkout to upgrade wheels & make special durometer requests in the "NOTES" section if needed. Premium Bushings: Upgrade to premium grade custom bushing combos all around. Alternative Bushing Combo: To make your setup even more versatile -- choose this upgrade to receive an additional bushing combo for your trucks to suit the opposite discipline. Just pop the other combo in your trucks, adjust your wheelbase and you're ready to go. Back-up Bushings: Bushings are essential for top performance. Order backup sets for your trucks and be ready when you need to be. Choose "premium" for this upgrade if you have also upgraded to premium bushings. Bearing Upgrade: Choose from the list at checkout to upgrade for the ultimate set-up to suit your budget. Oust Bearing Maintenance Bundle: Includes one bottle of Oust Metol Speed Lube and one Oust Speed Kleen Bearing Wash Kit at a special bundle price savings. Remove dirt and buildup from bearings with the Kleen Kit and relube with Metol Speed lube. Choose upgrades when ordering -- additional charges apply. Custom Stripe Grip Top --available. Choose from Glow in the Dark stripe or Red & Black stripe when ordering.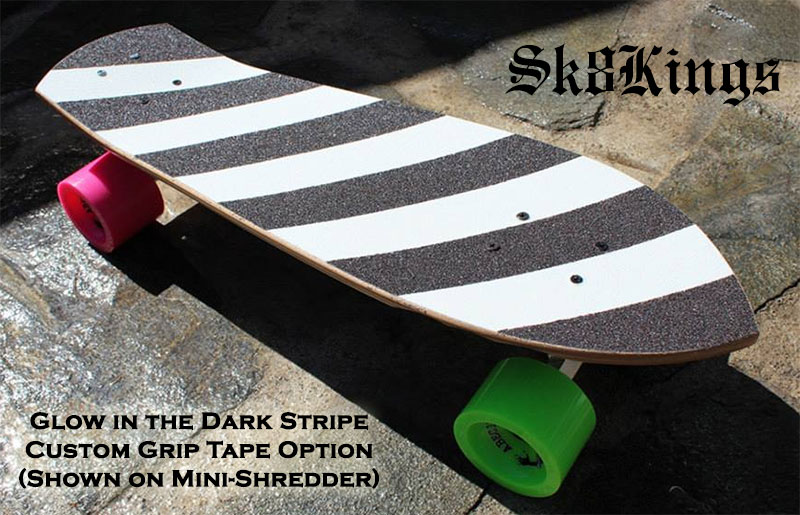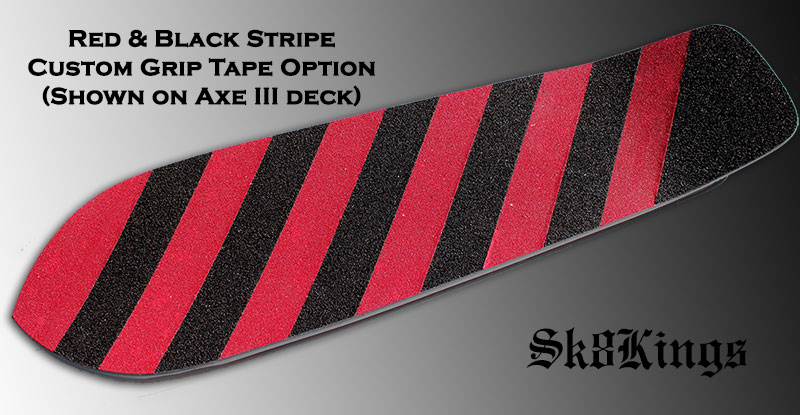 About Joe McLaren:Joe McLaren from Colorado has made history -- claiming his SEVENTH consecutive Overall World Championship title in 2016 in the Pro division in Riga, Latvia. Joe has maintained an impressive momentum in race wins each season-- surpassing every milestone previously set in the history of slalom racing. His 2016 season record includes winning overall in every major championship event, including Worlds and US Nationals. Ranked #1 Pro in the ISSA World Rankings ISSA official stats. Joe Mac -- the Axe Army Salutes You! Joe McLaren Team Profile

About the McLaren Beast graphic: Featuring the popular "beast" character which was inspired by Joe McLaren's likeness and designed by Tim Kienitz for the Sk8Kings US Nationals race graphic - this new graphic includes the McLaren Family Crest and a backdrop of the McLaren tartan in honor of Joe's Scottish heritage. Creag an Tuirc translates to "Boar's Rock" in Scottish Gaelic and was the traditional rallying point of Clan McLaren - one of the most ancient clans of Scotland.

Check out the video of Joe setting the new 100 cone world record in 2016 and his former record from 2011 - both records set while riding his McLaren Pro Model.
AXE ARMY Special Offer: Add an AXE Army Tee to your order at a special discount price. Specify size in the "Notes" section. You can substitute any logo tee depending on availability -- just indicate in notes.

If you ride an AXE -- you're part of the AXE Army! Sport your colors so we can find you at the races.
For International Shipping Rates inquire by e-mail: info@sk8kings.com Rates vary by country so please include your shipping address in e-mail.
Customer Reviews
No Reviews Yet!