SK8KINGS Turbo Wheels - Aluminum Core SpeedTrak (ST) Formula 75mm / 79a, 82a or 85a - Sold in pair of two wheels to allow mixing
Sk8Kings is proud to continue the roll-out of our Turbo series wheel line. Following years of R&D and extensive testing by our team riders - the production version Aluminim Core Turbos have been a huge success with traction, speed and predictable slide control. The Turbo Aluminum Core Wheels feature a CNC-machined aluminum core - for precision bearing fit and superior wheel alignment through critical turns. This Turbo urethane formula - SpeedTrak - far exceeds the traction capabilities of any wheel we've ever tested - allowing the rider to take more agressive lines while maximizing speed and roll. Turbo wheels are an excellent choice for all racing disciplines as well as Turbo-charging your favorite ride. The Turbo ST Series includes 70mm/75mm sizes Composite Core AND Aluminum Core versions. Turbo Wheels - like all Sk8Kings skateboard gear - are made right here in Southern California -- USA Proud!
Turbo Wheel Specs: 75mm / 79a, 82a or 85a durometer - 58mm contact patch CNC aluminum core and offset inner, with Mag screened graphic
79a - Deep Purple
82a - Jet Black
82a - Bright Green (Very Limited Edition 75mm size ONLY)
85a - Flourescent Red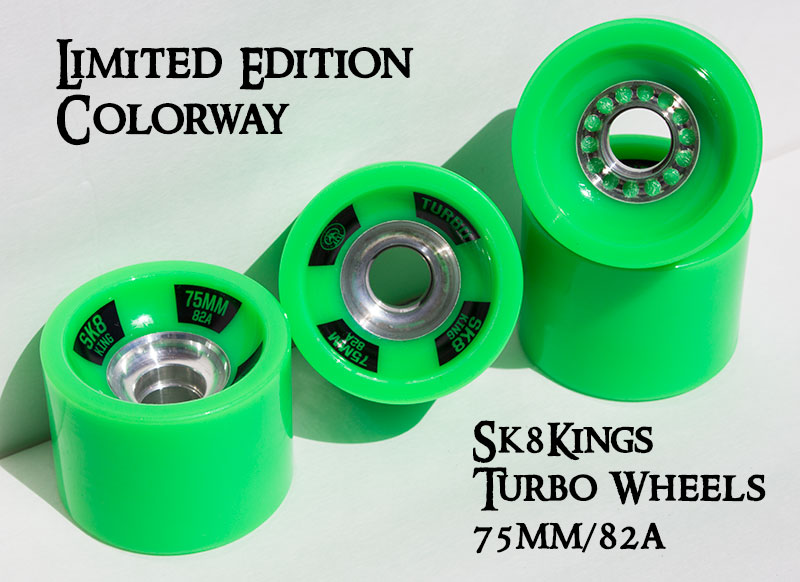 Available Upgrade Option for Completes: Turbo Aluminum Core Wheels are an available upgrade on all Sk8Kings Axe Series, Blaster and Mini-Shredder Completes -- Woody or Ultimate! Also available in Turbo Composite Core version - which are part of our standard build for Sk8Kings longboard completes.
Bearing Recommendations: Turbo Aluminum Core Wheels are designed to work with standard 8mm sized bearings. We recommend using high quality bearings (such as Oust Moc 5, 7 or 9) with separate steel bearing spacers (8mm x 10mm) for best performance. Be sure to carefully align bearings and press in straight.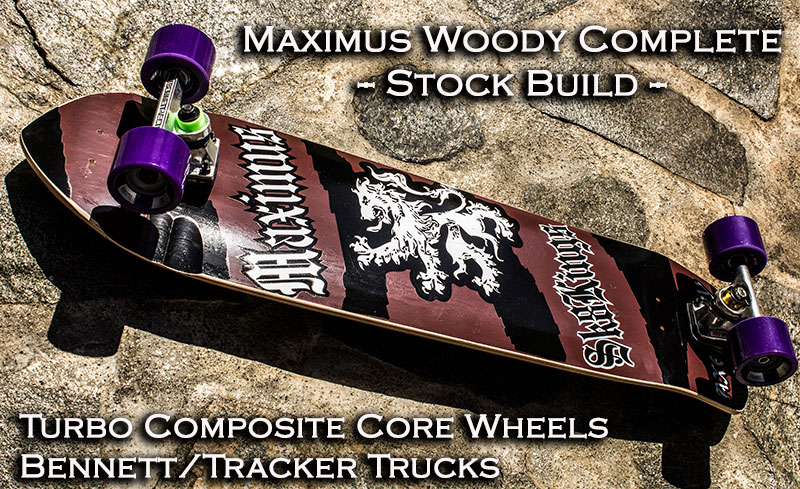 Turbo Aluminum Core Wheels debuted in 2013 -- taking the Sk8Kings team to the top of the podium in every major race since!

These wheels are by far the best wheels I've ever ridden. Insane grip, super fast speed, and a really smooth ride. Grip way better than wheels with much softer duros but with the speed of much harder duros. This urethane and core combination is truly next level. -- Joe McLaren

Watch for Joe McLaren Signature Wheel - Coming 2016!!
For International Shipping Rates inquire by e-mail: info@sk8kings.com Rates vary by country so please include your shipping address in e-mail.