SK8KINGS Crown Jewels - 95a 55mm Hubbed Wheels
Our same great Crown Jewel wheel now in a softer durometer -- perfect to accomodate those really rough or super slick surfaces. A long time favorite of flatland tech skaters -- our Crown Jewels feature an ample wheel patch and recessed offset bearing seats -- offering greater axle nut protection and balanced stability for rail maneuvers. Features a hubbed core excellent strength & precision bearing seat. Flat wheel patch on the face of the wheel for stability on the rails. Made from top grade urethane in 95a durometer for surface versatility and excellent speed -- and topped off with our Crown Jewel color graphic printed on both sides!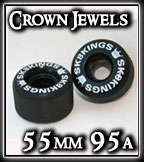 Wheel Specs: Compact and light at 37mm x 55mm/95a durometer. Screen printed in black and gold colorway on the inner lip front side so they'll stay great looking through hours of rail tricks. Sold in sets of four wheels -- enough for one skateboard.
Reviews: For glowing reviews of our Crown Jewel series -- see our on-line Forum -- SK8KINGS Gear Reviews.
MIX DURO OPTION: Mix the 98a and the 95a Crown Jewels -- 50/50 on your board. That is -- front -- 95a on the toe side (98a on the other side) and reverse that on the back. Gives you the best of both worlds -- great traction and great speed/roll -- all at the same time. Let us know in the "notes" section when ordering a set and we'll send you a mixed set no problem and at no extra charge.
UPGRADES: Bearings: Add a set of bearings to this wheel order - choose premium OUST Moc 5 or standard Mini-Logo (or comperable depending on stock available) options above and SAVE on shipping costs! Bearing Spacers: Steel bearing spacers (10mm) to match -- recommended to protect your bearings and provide the smoothest ride. Speed Lube: Don't forget the Oust Met-Ol Speed Lube! Choose ADD LUBE option above for the best bearing lube money can buy! Please choose desired upgrades when ordering.
For International Shipping Rates inquire by e-mail: info@sk8kings.com Rates vary by country so please include your shipping address in e-mail.