360 King Spinners - Urethane 360 Spinning Wheels - Set of Two wheels includes bearings and spacers installed
Specialized wheels for 360 spinning enthusiasts -- rock hard urethane wheels that go off the A durometer scale! The 360 King Spinners offer specific traction and sustainable speed for 360's -- bridging the gap between our Crown Jewel wheel series and our high performance steel Record Breakers. Intended for use on smooth to slick concrete surfaces for 360 spinning. The extreme hardness of the wheel material makes a very snug bearing seat - requiring the use of a bearing press for bearing installation.
Sold in sets of two wheels WITH Mini-Logo bearings and steel spacers installed. Bearing upgrade available. Sold separately or as part of the 360 King Spinner Complete
These highly specialized wheels are modeled after the original Richy Carrasco signature wheel - Hobie 360 Spinner - designed by World Champion Richy Carrasco, Dale Smith and Glen Miyoda in the 1970's. More Info: For tips on 360's -- check out our on-line forum - 360 Spinning with Richy.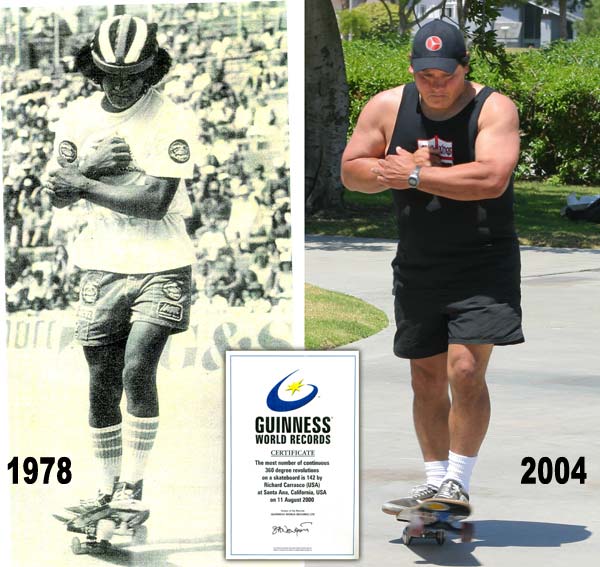 OPTIONAL UPGRADES: Bearings - Upgrade from Mini-Logo stock installed to Oust Moc 5, Moc 7 or Moc 9 -- choose when ordering. Truck - Add one Tracker Midtrack 85mm truck to mount your 360 King Spinners for optimal spinning capability. Lube -- Don't forget the Oust Met-ol Speed Lube! Choose ADD LUBE option above for the best lube money can buy!
For International Shipping Rates inquire by e-mail: info@sk8kings.com Rates vary by country so please include your shipping address in e-mail.