WOODY SERIES - LYNN KRAMER AXE - WORLD CHAMPION PRO MODEL - Maple Micro-Core Deck
31.5" x 8.75"
Dual wheelbase: 18.75" & 19.75"
Lynn Kramer World Champion graphic in Glow in the Dark colorway
World Championship Winning Race Decks Since 2004
Axe Woody Series - 7-Ply Maple Micro-Core Construction
Lynn Kramer - is the 12-time Women's Slalom World Champion as well as a multi-world record holder in the Women's 100 Cone -- and her signature model is her go to choice for tight and hybrid slalom. The same great design features of Lynn's Ultimate Series deck in an extra affordable all-wood version! Our Axe Series decks are your #1 choice for slalom racing, freeriding, long distance pumping -- and can also be set up as a street cruiser by moving the truck location in rear and adding a tail skid plate (option available upon request -- not pre-drilled). The Lynn Kramer is sized for tight turning at speed and is ideal for tight and hybrid slalom.
The Lynn Kramer AXE Woody Deck Series features:

World Record Setting Board Design
Maple Micro-lam core construction - affordable performance drive and unmatched durability
Balanced concave for superior foot placement
Revolutionary Torsion Tail concept (rear truck mounted in the kicktail angle
Fully-routered wheel wells for extra wheelbase options and amazing versatility
Pre-drilled multiple nose truck mounts to shorten or lengthen your wheelbase
Functional Kick Tail rear mount truck with skid plate to fit option available upon request
Overall dimensions: 31.5" x 8.75"
Dual wheelbase: 18.75" & 19.75"
Lynn Kramer World Champion graphic in Glow in the Dark colorway
100% Made in USA
Decks sold separately or as customized completes.
UPGRADE OPTIONS: Two options to choose from! THE WORKS -- Want to bolt your trucks on and go? We can expertly outfit your deck with proper riser combos & mounting hardware (for both trucks) and Hard Core Grip Tape for you. Choose "The Works" option and specify inner or outer wheelbase (for the inital setup). Be sure to note what trucks / wheels you intend to mount so we can dial the wedging to fit. GRIP TAPE ONLY --Choose this option and your deck comes gripped with black Medium Hardcore grip tape. Custom Stripe Grip Top --available. Choose from Glow in the Dark stripe or Red & Black stripe when ordering.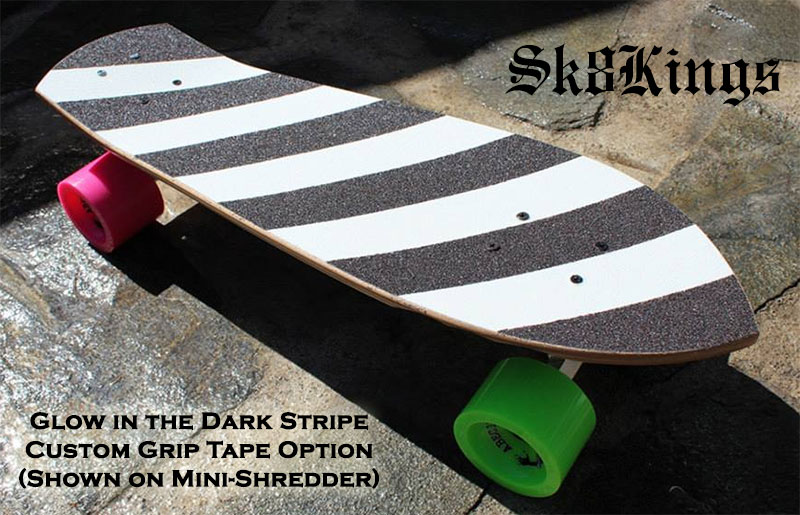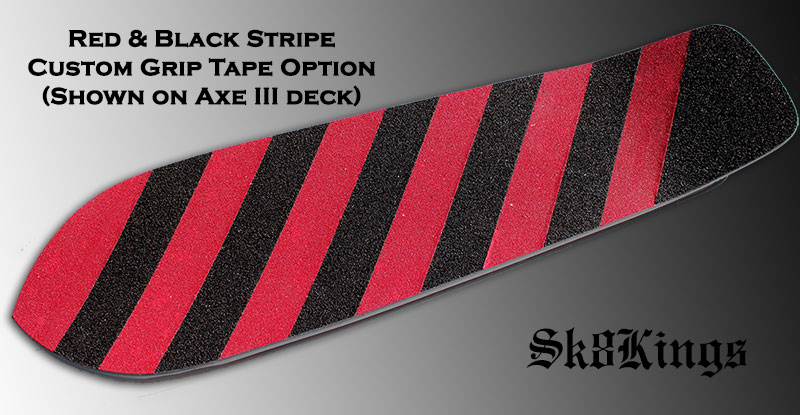 AXE ARMY Special Offer: Add an AXE Army Tee to your order at a special discount price. Specify size in the "Notes" section. You can substitute any logo tee depending on availability -- just indicate in notes.

If you ride an AXE -- you're part of the AXE Army! Sport your colors so we can find you at the races.
THE AXE SERIES DESIGN IS UNMATCHED: The race-proven concept that revolutionized modern slalom deck design -- racking up championship wins year after year. Results tell all.

Check the list for yourself: AXE SERIES -- Winning Races Since 2004
Check out some video of Lynn in action riding her Kramer Pro Model.
For International Shipping Rates inquire by e-mail: info@sk8kings.com Rates vary by country so please include your shipping address in e-mail.