Blaster Longboard - CARBON FIBER CONSTRUCTION - LDP Distance, Ditch, Cruising
41" x 9.5", Multi-Wheelbase: 27/28/31.5/32.5"
Blaster Longboard by Sk8Kings! Featuring our carbon fiber sandwich construction - carbon fiber composite layers top and bottom with micro-lam hard rock maple cores -- for speed generating response and road absorbing feel. Perfect construction for pumping and accelerating efficiency through the miles - with a kicktail too! Blaster can be used to rip up many terrains - from the boardwalk to bombing garages and killing the ditches too. The deck is sized at 41" x 9.5" and features front wheel wells and multiple pre-drilled wheelbase options for max versatility. The Blaster is an awesome all-around functional solution. Special Thanks to James Peters for initially inspiring this project!


BLASTER LONGBOARD SPECS AND FEATURES:
Carbon fiber top/bottom with micro-lam maple cores
Concave and kick tail design
Functional or Torsion rear truck tail mount options
Dual front wheel wells
Two Flex Patterns - Medium or Stiff
Decks sold separately or as customized completes
Overall dimensions: 41" x 9.5"
Multi-Wheelbase: 27/28/31.5/32.5"
Master Blaster graphic in our latest red on black colorway



PRE-DRILLED REAR TRUCK MOUNTING OPTIONS:

TORSION TAIL OPTION = mount in the kicktail for more flex and traction (use drill pattern in the kick tail angle) to set Blaster up just like our Axe Series racing decks. Torsion Tail Wheelbases are 31.5 or 32.5"
Note: If you order the Torsion Tail Setup and a skid plate add on option -- the skid plate will come a la carte but deck will be drilled for skid plate mounting holes. EXTRA RISERS/MOUNTING HARDWARE-REAR TRUCK MOVE - Extra riser & mount hardware bundle is offered to move the rear truck to the Functional Kicktail Setup at your leisure. Choose option at checkout.
| | |
| --- | --- |
| | FUNCTIONAL KICKTAIL OPTION WITH SKID PLATE = mount before the kicktail (use the pre-drilled truck mount in front of the kick) for a stiffer performance flex and ability to pop the front end up over road obstacles in your path (railroad tracks, curbs, potholes, etc). King Plate IV (skid plate) recommended to protect your Blaster tail. Functional KickTail Wheelbases are 27 or 28" |
UPGRADE OPTIONS: Choose from THE WORKS -- Want to bolt your trucks on and go? We can expertly outfit your deck with proper riser combos & mounting hardware (for both trucks) and Super Hard Core Grip Tape for you. Choose "The Works" option and wheelbase setting along with details of the trucks / wheels you intend to mount so we can dial the wedging to fit. GRIP TAPE ONLY --Choose this option and your deck comes gripped with black Medium Hardcore grip tape. Custom Stripe Grip Top --available. Choose from Glow in the Dark stripe (black or clear), Red & Black stripe or Glow in the Dark Center stripe when ordering.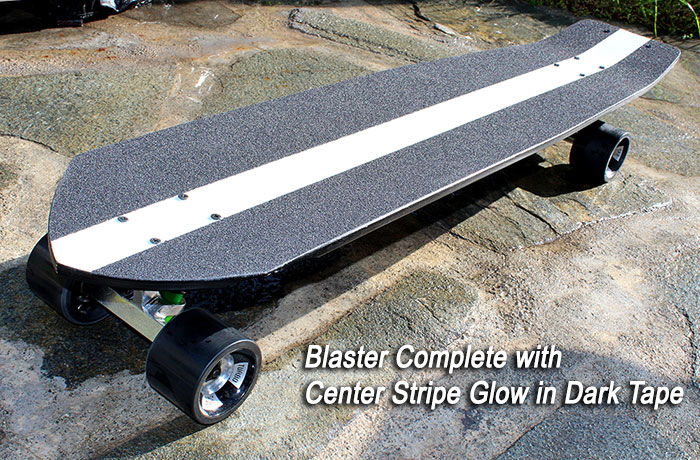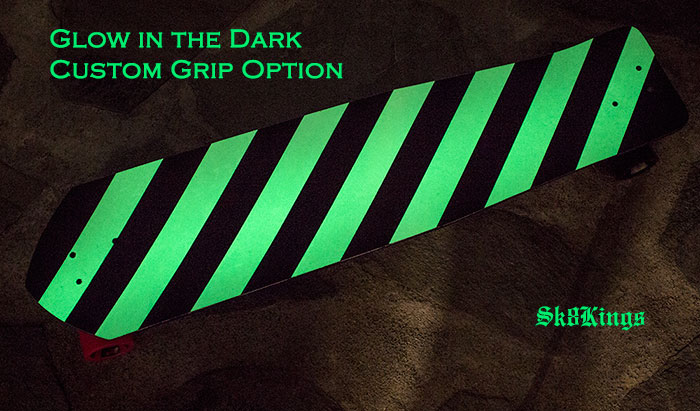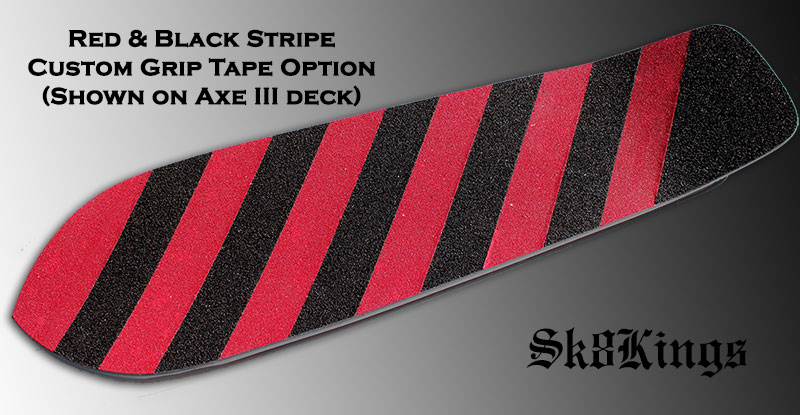 Logo Tee/Hoodie/Hat:Save $5 on a logo T-shirt, Hoodie or Hat when ordered with a deck or complete. Choose the item to add and indicate logo choice and size in the notes section when ordering.
COMPLETES: We can custom build a complete just for you -- whether it's for distance, ditch riding, carving, etc. See our "Completes" category for standard and upgrade options or contact us via phone or e-mail for something special.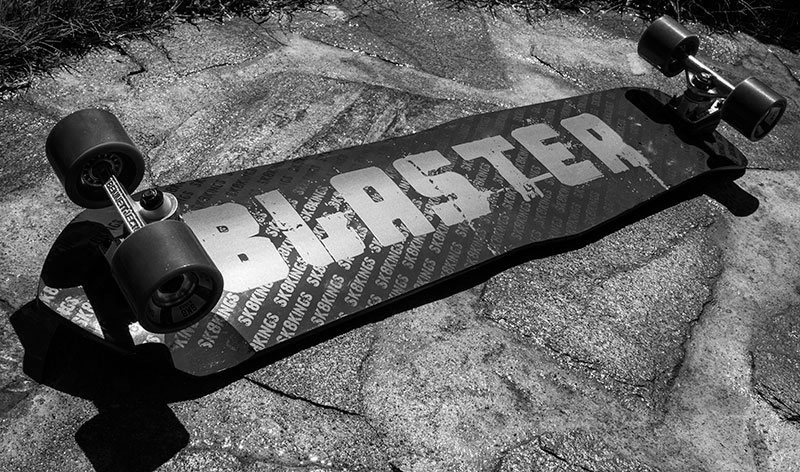 For International Shipping Rates inquire by e-mail: info@sk8kings.com Rates vary by country so please include your shipping address in e-mail.