ULTIMATE SERIES - AXE III Bullet Nose Deck - Carbon Fiber / Maple Composite
33 1/2" x 8 1/2" Dual Wheelbase: 22" & 23"
Taking our revolutionary deck design to a top level of performance -- our Ultimate Series features the perfect blend of carbon fiber with micro-lam wood cores for a killer snap back reaction to rival any high end deck -- but at half the price! The composite construction has produced the the most durable and reactive decks in the history of the AXE -- and raises the bar once again. Reaction properties of carbon fiber have allowed us to introduce a consistent level of responsive flex-- All the best features of the original AXE III but now more reactive than ever! We've added front dual wheel wells for extra turning potential -- along with a killer new graphic to boot. Now you can have this amazingly versatile deck and be a winner from the race courses to the boardwalks and all points between.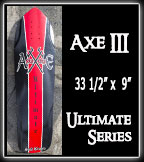 ULTIMATE SERIES DECK SPECS AND FEATURES:
All new construction of carbon fiber and micro-lam wood cores -- for a killer snap back reaction
Proven Axe-llent concave and kick tail design -- winning races since 2004
Offered in medium-stiff flex pattern
Dual front wheel wells
Multiple wheelbases
New Ultimate graphics
Decks sold seperately or as customized completes
Overall dimensions: 33 1/2" x 8 1/2"
Dual Wheelbase: 22" & 23"
Ultimate AXE graphic in latest steel colorway
THE AXE SERIES DESIGN IS UNMATCHED: The race-proven concept that revolutionized modern slalom deck design -- racking up championship wins year after year. Results tell all.

Check the list for yourself: AXE SERIES -- Winning Races Since 2004
UPGRADE OPTIONS: Two options to choose from! THE WORKS -- Want to bolt your trucks on and go? We can expertly outfit your deck with proper riser combos & mounting hardware (for both trucks) and Super Hard Core Grip Tape for you. Choose "The Works" option and specify inner or outer wheelbase (for the inital setup). Be sure to note what trucks / wheels you intend to mount so we can dial the wedging to fit. GRIP TAPE ONLY -- Choose this option and your deck comes gripped with Super Hard Core Grip Tape only.
AXE ARMY Special Offer: Add an AXE Army Tee to your order at a special discount price. Specify size in the "Notes" section. You can substitute any logo tee depending on availability -- just indicate in notes.

If you ride an AXE -- you're part of the AXE Army! Sport your colors so we can find you at the races and don't forget to post your pics at our AXE Army Forum.
COMPLETES & OTHER AXE ARMY GEAR: We can custom build a complete just for you -- whether it's for racing, carving, pumping or something else. See our "Completes" category for standard and upgrade options or contact us via phone or e-mail for something special.
For International Shipping Rates inquire by e-mail: info@sk8kings.com Rates vary by country so please include your shipping address in e-mail.