Mini-Shredder Deck - Wood Series Mini Cruiser/Slalom 27" x 8 1/2", Multi-Wheelbase: 13 3/4, 15 1/4, 18"
Sk8Kings releases Mini-Shredder -- the solution to your mini-cruising needs! Featuring concave, kicktail, multiple-wheelbases, front wheelwells, tail skid plate option -- this killer little shredder is just 27" long with a comfortable 8 1/2" width -- the perfect go anywhere fun ride! Great beginner slalom setup for mini-racers and 100% So Cal Made.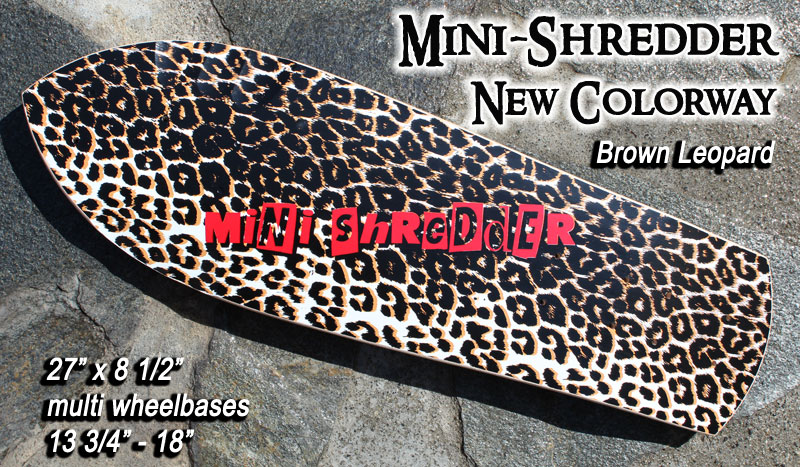 This mini-sized board is amazingly versatile -- built to handle everything from cruising to slalom -- and small enough to fit in your locker or backpack too.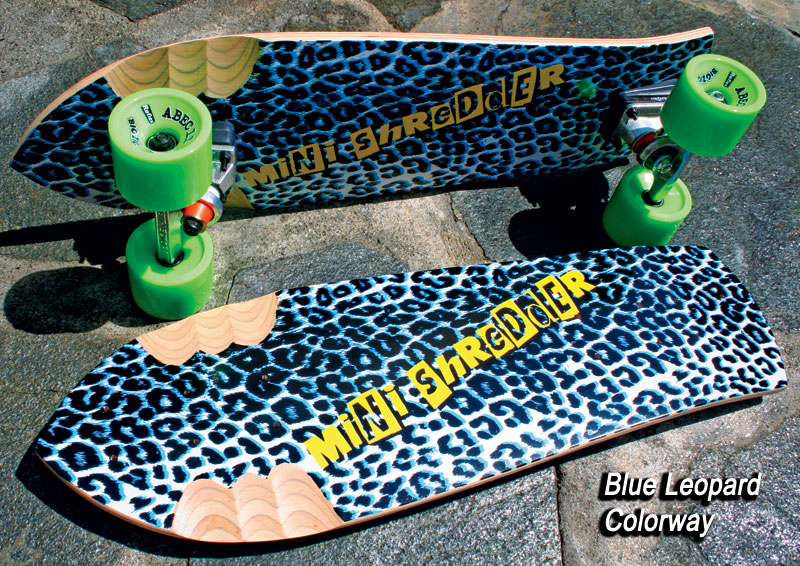 DECK SPECS: Overall dimensions: 27" x 8 1/2", Multi-Wheelbase: 13 3/4 (functional kick tail), 15 1/4 and 18" (kicktail mount) Features: Non-cambered molded concave with tail kick foot wedge and truck mount. Hand-crafted entirely in Southern California using micro-core wood lams. Hand-screened by the best in the industry -- with our Blue Leopard or NEW Brown Leopard graphic.
UPGRADE OPTIONS: Two options to choose from! THE WORKS -- Want to bolt your trucks on and go? We can expertly outfit your deck with proper riser combos & mounting hardware (for both trucks) and Super Hard Core Grip Tape for you. Choose "The Works" option and specify wheelbase choice. Decks are multi drilled so you can always change your wheelbase later as needed. GRIP TAPE ONLY -- Choose this option and your deck comes gripped with Super Hard Core Grip Tape.
COMPLETES: Also available in complete setups.
For International Shipping Rates inquire by e-mail: info@sk8kings.com Rates vary by country so please include your shipping address in e-mail.